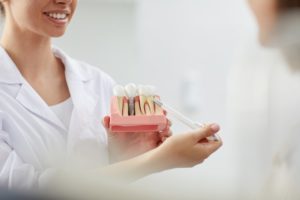 Did you know that dental implants boast a success rate of over 95%? This treatment is able to deliver consistent, predictably positive results! However, it must be acknowledged that dental implant failure does happen to some patients. This possibility should not hold you back from getting dental implants, but it should motivate you to learn how you can recognize signs of a problem with your restored smile and what you can do to reduce the chances that it will happen to you. Continue reading this blog post to explore these important topics.
Signs and Symptoms of Dental Implant Failure
A dental implant in Plymouth may be in danger of failing if you are experiencing any of the following:
An implant feels loose.
You are suffering severe or unusual pain around an implant.
There are signs of infection, such as red gums, swollen gums, receding gums, and pus.
It is difficult to chew with the implant.
Keep in mind that dental implant failure can occur at any time, even years after the initial treatment. Staying alert for the above-listed signs and symptoms can equip you to seek professional care in a timely manner. Visiting your dentist as soon as possible reduces the chances that you will require extensive or complex procedures to salvage your implant.
Preventing Dental Implant Failure
You cannot completely eliminate the possibility that you will suffer a failed dental implant. However, you can reduce your risk to almost nothing by taking some simple precautions, including:
Be strict about oral hygiene. The most common cause of dental implant failure is an infection that stems from an overabundance of harmful bacteria in the mouth. Thorough brushing and flossing are among the best ways to fight bacterial buildup.
Do not smoke. Smoking is problematic for dental implants in numerous ways. For example, it contributes to dry mouth, which in turn increases the risk of oral infections. It also interferes with your body's ability to fight infections.
Visit your dentist regularly. It is wise to visit your dentist for a checkup and cleaning at least twice a year so they can monitor the health of your dental implants and the surrounding tissue.
Reduce your risk of physical harm. A hard impact to your mouth could adversely affect your implants, as could perpetual teeth grinding and clenching. When you engage in any activities that might result in oral injury (such as playing sports), you should wear a mouthguard. If you tend to grind your teeth at night, you should ask your dentist how you can prevent that with a custom nightguard.
Dental implant failure is a rare but serious problem. Fortunately, knowing how to recognize and prevent it may enable you to enjoy your restored smile for a lifetime.
Meet the Practice
The team at Aveni Dental Professionals offers comprehensive dental implant services, including placement, maintenance, and salvage procedures for failed implants. If you would like to learn more about this form of tooth replacement, we would be happy to speak with you. Contact us at 508-812-7692.