Dental Crowns – Plymouth, MA
Protect and Restore Weakened Teeth
Dental crowns have been used for generations to help patients avoid extractions and retain their natural teeth. Today's crowns are more comfortable, functional, and aesthetically pleasing than ever before. At Aveni Dental Professionals, we are proud to offer this restorative treatment. If you ever suspect that you need a crown, or one of your old crowns needs to be replaced, contact our team to schedule a consultation with Dr. Aveni.
Why Choose Aveni Dental Professionals for Dental Crowns?
1

Dentist with 40+ years of experience

2

Metal-free crowns available

3

Personalized, caring treatment
What Are Dental Crowns?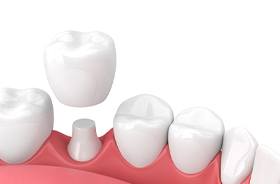 A typical dental crown is a custom-made restoration that covers the entire visible portion of the tooth — everything that you normally see above the gum line. In most cases, a crown's purpose is to help a weakened tooth regain its structure and function. Often, a crown, along with other treatments, can even save a damaged tooth from extraction. Crowns can be used to achieve other objectives as well. For example, they can support a dental bridge in order to replace a lost tooth. Some patients choose to receive a crown for purely cosmetic reasons.
Crowns can be constructed out of a broad range of materials, including gold, silver, and other metals. For patients who prefer a more natural-looking solution, we usually recommend porcelain-fused-to-metal crowns or 100 percent porcelain crowns. The type of crown that is best for you will depend on the location of the tooth being treated, whether you struggle with teeth grinding, and your personal preference.
Why Might I Need a Crown?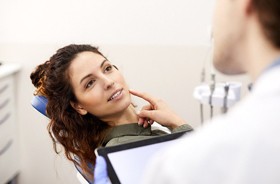 You might need a crown if:
You have a tooth that has been treated with root canal therapy
One of your teeth is so badly decayed that a regular filling cannot restore it
You have cracked tooth syndrome
You are missing a tooth and wish to replace it with a bridge or dental implant
You want to improve the appearance of a misshapen tooth
A misshapen tooth is negatively affecting the way your bite functions
One of your old crowns is no longer functional, or you want to replace it with something more natural-looking
The Crown Process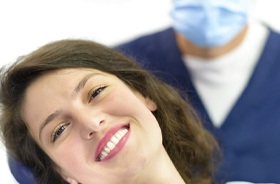 The process of placing a dental crown usually takes two appointments. At the first appointment, we prepare the tooth. Often, this requires that we file the tooth down or fill it in so it will fit well beneath its crown. Patient comfort is one of our top priorities, so you should feel little to nothing during this part of your treatment. Once the tooth is ready, we take an impression of it and the surrounding teeth. Dr. Aveni sends that impression, along with detailed notes, to a dental laboratory, which will get to work on creating a custom crown.
You will wear a temporary restoration to protect your tooth while the lab creates your permanent one. Once your crown is ready, you will return to our office. After Dr. Aveni verifies its fit, he will attach it to your tooth.