Porcelain Veneers – Plymouth, MA
Hide Your Smile's Imperfections
It is difficult to overstate the power of an attractive smile. It can make you appear younger, more confident, and more approachable. But what if your teeth have significant flaws that cause you to hold back from smiling? Dr. Aveni and our team may be able to help via our cosmetic dentistry services. Porcelain veneers, in particular, are effective at disguising a broad range of aesthetic imperfections. In as few as two appointments, we may be able to totally transform the way your teeth look.
Why Choose Aveni Dental Professionals for Porcelain Veneers?
1

Dentist with over 40 years of experience

2

Aveni's advanced training

3

Treatment tailored to your specifications
What Are Porcelain Veneers?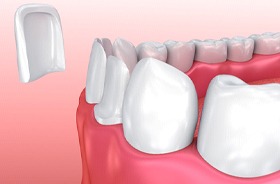 Porcelain veneers are ultra-thin pieces of porcelain. Dr. Aveni can attach them to the fronts of your teeth in order to disguise cosmetic flaws, including discoloration, cracks, chips, small gaps, and minor misalignment. The veneers are custom-made for each patient. Yours will be designed with the color, shape, and size that fits with your personal preferences and natural facial aesthetics.
Some patients receive just a few veneers to cover their most unattractive teeth, whereas others opt for a full set of 4 – 8 veneers to bring about a total smile transformation. Although veneers typically just go on the top teeth, they can be applied to the bottom teeth as well.
Benefits of Porcelain Veneers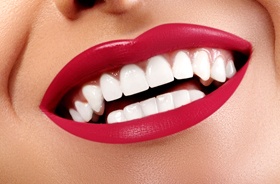 Some of the most significant benefits of porcelain veneers include:
Natural-looking. Porcelain bears a strong resemblance to natural tooth enamel. Your veneers will be shade-matched to blend in with the surrounding dentition.
Veneers are able to stand up to all the rigors of everyday eating and drinking. You can reasonably expect them to last for 10 years or longer if you care well for them.
Easy maintenance. Caring for veneers is similar to caring for natural teeth. Excellent oral hygiene, along with a few simple precautions to protect the veneers from trauma, should enable them to stand the test of time.
Stain-resistant. Porcelain is nonporous, which means that pigments from food and drinks cannot seep into it and discolor it.
The Veneer Process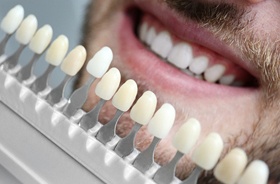 The process of placing porcelain veneers usually takes just two appointments. At the first appointment, your cosmetic dentist will prepare the teeth by removing a sliver of enamel from them. This step is necessary to ensure that the veneers do not make your smile look bulky or disproportionate. After your teeth are ready, we will take some images and impressions of them. We send all of that data, along with detailed notes about the desired design of your veneers, to a dental laboratory. While the technicians at the lab work on creating your custom, permanent veneers, you will wear temporary ones.
When your veneers arrive in our office, you will return for your second appointment. After we verify that the veneers are the right fit, we will attach them to your teeth.
Would you like to learn more about porcelain veneers and how they may be able to benefit you? Contact Aveni Dental Professionals today.
Understanding the Cost of Veneers
Although the cost of veneers in Plymouth tends to be higher than that of other cosmetic services, you can rightly regard them as an investment in your smile. They cover a wide range of flaws, and you can see results in just a few appointments. If you are an image-conscious individual who is hoping to achieve a stunning new look, veneers may be an excellent use of your money. However, they are not ideal for everyone. We will help you compare all of your cosmetic options during your consultation.
Cost vs. Cosmetic Dentistry: What Should I Choose?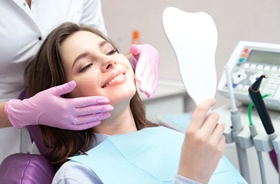 Veneers in Plymouth are just one service that has the potential to transform your smile. Below, you will find a brief comparison of other popular treatments, along with a brief note about pricing.
Braces and clear aligners typically cost thousands of dollars. They are not strictly for cosmetic purposes; they have noteworthy oral health benefits. However, if your dental misalignment is minor, you may end up spending a significant amount of money and investing months (or years) of your time in orthodontic treatment. Plus, braces do not enhance the color, size, or shape of teeth.
Teeth whitening. This is one of the most affordable cosmetic services, often costing just a few hundred dollars. It can provide fast and dramatic results. However, those results are temporary. Whitening also does not help with the shape or positioning of teeth.
Dental bonding. Also known as direct bonding or cosmetic bonding, this service looks similar to veneers at first. It is also fast and relatively affordable. However, it tends to last for just a few years.
For many patients, veneers are a sort of "all in one" cosmetic treatment. They can enhance the color, size, and shape of teeth. They can even disguise minor misalignment in some cases. Although they have a high cost, they are a wonderful value if you are looking to quickly and powerfully change your smile's appearance.
How to Make Veneers Affordable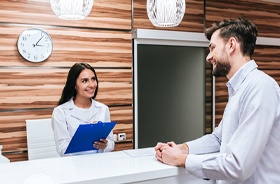 In the vast majority of cases, veneers are considered to be a purely elective, cosmetic treatment. Therefore, dental insurance almost never covers them. However, that does not mean you are without help when it comes to affording your desired treatment. As your cosmetic dentist in Plymouth, we offer a few convenient provisions:
Essential Dental Plan. This convenient discount plan provides reduced services on virtually all the services we offer. Plus, it can help you maintain your veneers later on.
We partner with CareCredit to provide low-interest financing for qualified patients. The application process is quick, and most people who apply are approved for credit.
Treatment plan adjustments. We will do our best to respect your budget when we designing your treatment plan. We may have to adjust it to accommodate your financial circumstances. You can expect us to be upfront about cost during every stage of your smile makeover.
Would you like to learn more about veneers and their cost? Get in touch with Aveni Dental Professionals today to schedule your consultation. We look forward to serving you!