Preventive Dentistry – Plymouth, MA
Protect Your Mouth from Decay and Gum Disease
Regular preventive care establishes the foundation for a healthy mouth. It can stop dental decay before it begins, enable you to fight gum disease, spare you from pain, save you money, and even reduce the risk that you will suffer from a number of systemic illnesses. At Aveni Dental Professionals, we offer several preventive services that are designed to help you maintain optimum oral health. Contact us when you are ready to schedule your next — or first— appointment for preventive dentsitry in our Plymouth, MA dental office.
Why Choose Aveni Dental for Preventive Dentistry?
1

Dentist with over 40 years of experience

2

Preventive services available for all ages

3

Convenient appointment times to accommodate your busy schedule
Dental Checkups & Teeth Cleanings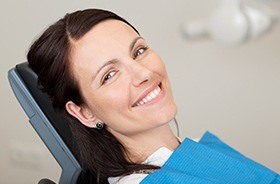 Experts recommend that most people visit their dentist twice a year for a checkup and cleaning. During this type of appointment, Dr. Aveni may use X-rays in addition to a visual exam to look for signs of decay, gum disease, or other developing oral health issues. You will also undergo a thorough dental cleaning, wherein our team will remove plaque and tartar buildup from your teeth and give you personalized advice on how to maintain a clean, healthy mouth between professional cleanings.
Children's Dentistry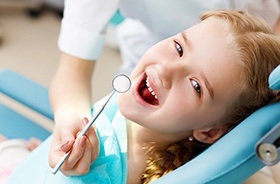 Our team strives to create a relaxed, welcoming environment where patients of practically any age feel at ease. When you bring your young ones to us for care, we will clean their teeth, look for signs of any issues that require further treatment, check the development of their dental structures, and give them valuable education to help them establish good habits. We may also recommend further preventive services for them, such as dental sealants or fluoride treatment.
Dental Sealants
A dental sealant is a thin coating that we apply to the chewing surfaces of permanent teeth, particularly the molars and premolars. Sealants protect teeth from bacteria and food particles that might otherwise cling to them and lead to decay. The sealant application process is fast and painless. This simple treatment, which we usually recommend for children as well as adults who have deep grooves on their teeth, can provide years of protection against cavities.
Fluoride Treatment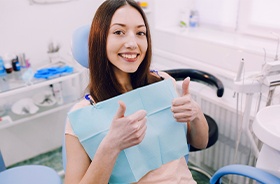 Every day, microscopic bits of your tooth enamel get worn away. Fluoride is a mineral that helps to replenish the enamel, keeping it strong and thick. Although most toothpastes and many mouth rinses contain fluoride, many patients benefit from a professional fluoride application when they visit us. This simple and quick preventive treatment can give your teeth, or those of your children, an extra boost of protection against everyday wear and tear.
Mouthguards / Sportsguards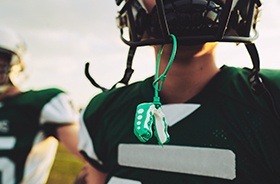 Not only does a mouthguard protect against injuries to the teeth and gums during sports, but it can also reduce the risk of concussion. We offer custom mouthguards, which are designed around your unique oral structures and provide a greater level of protection and comfort than what you can get from products purchased at a local sporting goods store. We also offer custom nightguards, which are designed to protect your teeth against damage caused by bruxism (involuntary teeth grinding).
Oral Cancer Screening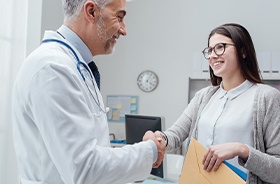 Oral cancer afflicts tens of thousands of people each year, and it is not just tobacco users who are at risk. In fact, anyone can develop this disease. That is why we always include an oral cancer screening as part of a routine exam. We look for any abnormalities in the mouth and surrounding areas, and if we find any cause for concern, we will urge you to seek further testing right away.
Sleep Apnea Therapy
Obstructive sleep apnea is a dangerous disorder that causes pauses in breathing throughout the night. Left untreated, it can make a person feel exhausted on a daily basis. In the long-term, it can lead to devastating consequences for an individual's physical, emotional, and mental health. Fortunately, treatment for sleep apnea is quite simple in many cases. You may just need a custom oral appliance to reposition your jaw at night and thus allow for freer airflow.