Dentures – Plymouth, MA
Functional, Natural-Looking Tooth Replacement
Since they were first used centuries ago, dentures have evolved by leaps and bounds. The dentures of today are more comfortable and functional than ever before. They are one of the most popular ways to replace lost teeth! At Aveni Dental Professionals, we offer multiple types of dentures in Plymouth. Learn more about them on this page, and get in touch with us when you would lie to schedule your personal restorative dentistry consultation.
Why Choose Aveni Dental Professionals for Dentures?
Experienced restorative dental team
Natural-looking, comfortable results
Traditional and implant dentures available
Who Is a Good Candidate for Dentures?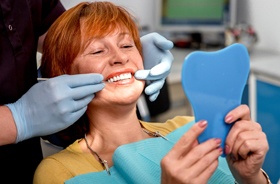 Do you struggle with the effects of missing teeth? Perhaps you find it difficult to eat your favorite foods, and you may feel embarrassed to smile. Your speech may not be as clear as it once was. Dentures can address such issues. They are particularly suited to people who have suffered the loss of several teeth or all of their teeth, rather than just one or two teeth.
Types of Dentures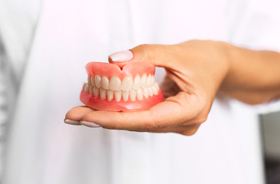 When you visit us as your dentist in Plymouth for a consultation, we will let you know what type of denture we believe is best for you. Our recommendation will be based on the extent of your tooth loss, the health of your gums and jawbone, and your goals for treatment. Here is a brief overview of the three types of dentures that we offer:
Partial Dentures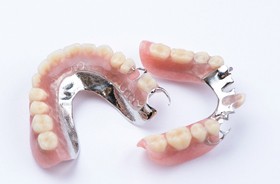 A partial denture replaces multiple teeth at various places throughout a dental arch. You can think of it sort of like a puzzle piece that fits in exactly where it is needed. It may have small metal attachments that connect it to the nearby natural teeth and help it to stay stable during speaking and eating.
Full Dentures
A full denture replaces an entire arch of lost teeth. It consists of a gum-colored base that supports a row of artificial teeth, which are usually constructed out of acrylic of porcelain. A mild adhesive or natural suction helps a full denture to remain secure in the mouth during eating and speaking.
Implant Dentures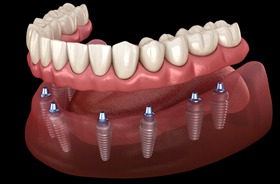 Dental implants are prosthetic tooth roots, which are placed in the jawbone during a minor surgery. They provide an extremely sturdy base of support for a denture. Implant dentures are much stronger and longer-lasting than traditional full and partial dentures. They even stimulate the jaw and help to prevent bone loss.
The Benefits of Dentures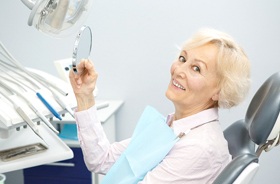 Some benefits of dentures include:
They are among the most cost-effective tooth replacement options. Insurance is usually willing to cover at significant portion of the cost, especially if you get a traditional prosthetic.
As long as they fit well, they can be quite comfortable and highly functional.
They can enable you to eat most foods.
They are easy to care for. Our team will give you some pointers on how to properly maintain them.
We carefully design dentures so they look as natural as possible and complement your unique features.
Denture FAQs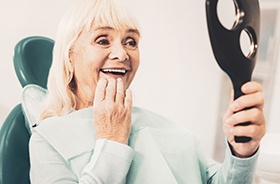 Dentures in Plymouth offer a reliable and cost-effective way to replace lost teeth. If you would like to find out whether they are right for you, we invite you to come to us for a personal consultation. In the meantime, you can learn more about this treatment by reading the answers to some frequently asked questions about it. Make notes about anything you would like further explanation on — our team will be happy to share our knowledge!
How Long Will You Have to Wait to Get Dentures After Your Teeth are Pulled?
The denture process varies from patient to patient. On average, a wait time of 6 – 8 weeks is necessary following extractions. This allows the gums an opportunity to heal before they have to support a prosthetic. Some patients, though, opt for immediate dentures, which are placed on the same day as extractions. Immediate dentures usually require some significant adjustments as time goes on because the gums and bone tend to change shape as the mouth heals from extractions.
If you are getting All-on-4 implant dentures, you may undergo extractions, receive dental implants, and get a temporary denture in a single appointment.
Can I Sleep with My Dentures?
When you first get your dentures, you may be told to keep it in your mouth for a full 24 hours, including when you sleep. After that, however, you should get into the habit of removing it each night. Removing it allows your gums a chance to rest, decreasing your risk of bone loss and gum sores. It is also beneficial for oral hygiene; your dentures may trap bacteria against your gums, so removing them to thoroughly clean both your mouth and your prosthetic is necessary to maintain a fresh and healthy smile.
What Is the Average Age for Dentures?
Tooth loss can afflict individuals of any age, so you should not feel embarrassed to seek treatment if you are a young person who is struggling with severe oral health problems. However, the need for dentures tends to be more common in older individuals. Roughly two-thirds of adults aged 40 – 64 have lost at least one tooth, compared to just one-third of adults aged 20 – 39. A census conducted by the American Dental Association found that almost 57% of people aged 65 – 74 wear some form of denture.
Is It Hard to Talk with Dentures?
When you first receive your prosthetic, speaking with it might be a challenge. It might cause you to have a lisp or make it difficult for you to pronounce certain sounds. The more you practice, the faster you can expect to adjust. Some patients find it beneficial to read out loud to get used to the feeling of their prosthetic. Once you adjust to talking with your denture, you may find that it is easier to speak clearly than it was before you got it. If, after a few months, you still find it hard to communicate while wearing your new teeth, call your denture dentist in Plymouth and ask for assistance.