Restorative Dentistry – Plymouth, MA
Regain Full Dental Function
The mouth is a complex network of structures that must all work together to provide optimum function. If even one tooth goes missing or suffers damage, you may experience significant pain. On a long-term basis, you may even suffer from further complications, such as infection or systemic illness. Completing restorative dentistry in Plymouth has the potential to prevent such future issues, relieve present pain, and help you once again enjoy full dental function.
Why Choose Aveni Dental for Restorative Dentistry?
1

Experienced, empathetic dentist

2

State of the art materials and methods

3

Highly functional, aesthetically pleasing results
Tooth-Colored Fillings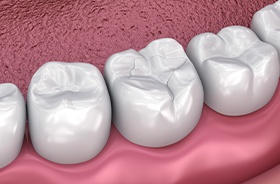 Instead of using silver amalgam to address minor decay, we repair teeth with a tooth-colored composite resin that blends in seamlessly with existing dentition. The filling process is simple. After we prepare the tooth, Dr. Aveni inserts the resin, which bonds with the tissue around it. Then, a special light hardens the filling. Finally, Dr. Aveni adjusts the filling so it does not interfere with the patient's bite and feels as natural as possible.
Learn More About Tooth-Colored Fillings
Dental Crowns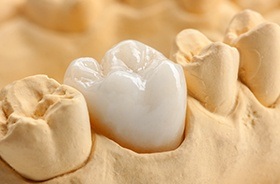 A dental crown is a custom tooth-shaped "cap" that protects a damaged or decayed tooth, thus renewing its form and function. These restorations often play an essential role in saving suffering teeth from extraction and enabling patients to regain full chewing ability. Crowns may be constructed of metals like gold and silver, but in our dental office, we often recommend all-porcelain crowns, which offer superior aesthetics. A crown may last for 10 years or longer before it needs to be replaced.
Learn More About Dental Crowns
Dental Bridges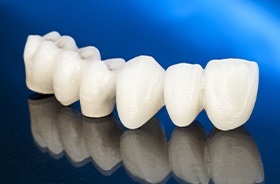 If you have one or two missing teeth, Dr. Aveni might suggest that you receive a dental bridge. This type of restoration typically consists of two crowns, which get placed over the teeth adjacent to the empty space. The crowns support artificial teeth that "bridge" the gap and thus restore full dental function. When bridges are made out of porcelain, they blend in well with the surrounding dentition and offer a natural appearance and feel.
Learn More About Dental Bridges
Dentures & Partial Dentures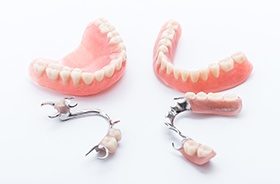 If you have suffered moderate to severe tooth loss, you may benefit from a full or partial denture. These removable restorations consist of a gum-colored base and artificial teeth. A full denture replaces an entire arch of teeth, whereas a partial denture fits in around the remaining natural dentition to fill in the empty spaces. As long as your dentures fit well, you can expect them to enable you to enjoy a balanced diet and a natural-looking appearance.