Cosmetic Dentistry – Plymouth, MA
Discover Your Smile's True Potential
Dr. Aveni's primary focus is on helping his patients enjoy the best oral health possible. However, he also understands the many emotional and social benefits that come with an aesthetically pleasing smile. That is why he combines his experience, skill, and artistry to offer cosmetic dentistry in Plymouth, MA. These transformative treatments have the potential to disguise or erase your teeth's imperfections. If you are ready to learn how our team can help your teeth look their best, contact us today.
Why Choose Aveni Dental for Cosmetic Dentistry?
1

Skilled treatment from an experienced dentist

2

Treatment plans tailored to each patient

3

Compassionate team focused on helping you achieve your goals
Porcelain Veneers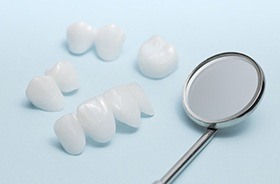 Porcelain veneers are thin, custom-cut pieces of porcelain that Dr. Aveni permanently attaches to the fronts of a patient's teeth. Their purpose is to disguise a broad range of aesthetic flaws, such as discoloration, cracks, chips, small gaps between the teeth, and more. The porcelain is resistant to stains and is durable enough to stand up to years of everyday wear and tear. In fact, veneers usually last for at least a decade before replacement becomes necessary.
Learn More About Porcelain Veneers
Metal-Free Dental Restorations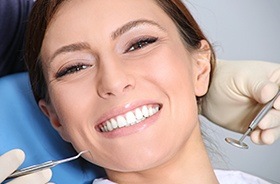 Metal fillings, crowns, and bridges are certainly effective at restoring the structure and strength of damaged teeth. However, they come with some significant drawbacks — including that their color clashes with the dentition around them. Metal-free restorations, on the other hand, are made out of porcelain or a tooth-colored composite resin; these restorations can be shade-matched to blend in with the surrounding teeth. They look and feel extremely natural, and they offer years of reliable function.
Learn More About Metal Free Dental Restorations
Teeth Whitening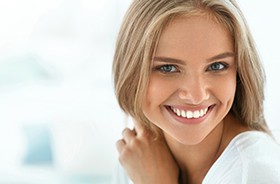 Over time, tooth enamel can begin to look quite dull. Genetics, as well as habits like coffee and wine consumption, may result in teeth that appear yellow and lackluster. Dr. Aveni offers both in-office and take-home whitening treatments. These powerful procedures work beneath the surface of the enamel to break up even deep-set stains, thus brightening your teeth by several shades in a short period of time. Professional teeth whitening is more reliable and safer than over the counter whitening products.
Learn More About Teeth Whitening
Gum Recontouring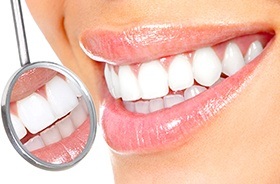 If more than a few millimeters of gum tissue is visible when you smile, you have what is commonly referred to as a "gummy smile." Your teeth may appear short and stubby. Gum recontouring corrects this issue by removing excess or uneven gum tissue and revealing a greater portion of your teeth. This procedure may be a standalone treatment, or it may be necessary before you receive other cosmetic services, such as porcelain veneers.