Dental Implants – Plymouth, MA
The Best Way to Replace Missing Teeth
Dental implants in Plymouth, MA are the best tooth replacement treatment that modern dentistry has to offer. They replace both the roots and the crowns of lost teeth, thus providing outstanding stability, natural function, and remarkable comfort. Dr. Aveni is an experienced implant dentist who can perform this potentially life-changing treatment from start to finish. To learn more about how our team may be able to help you experience the benefits of dental implants, contact us today to schedule a consultation.
Why Choose Aveni Dental for Dental Implants?
1

Start to finish treatment in one location from a highly experienced dentist

2

Replace any number of missing teeth

3

Enjoy long-lasting, natural-feeling tooth replacement
The Benefits of Dental Implants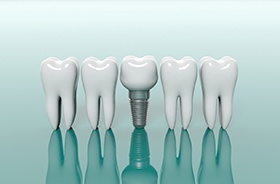 Dental implants offer several outstanding benefits:
A high success rate. Dental implants are successful in over 95 percent of cases.
Total tooth replacement. Dental implants replace both the crowns and roots of missing teeth, a fact that makes them extremely stable and natural-feeling.
Bone preservation. Bone deterioration in the jaw is normal after tooth loss. However, because dental implants bond with the tissue around them, they help to keep the jaw strong and thick.
Protection for the remaining natural teeth. Placing and restoring dental implants does not usually require that nearby teeth be modified or extracted. The implants also help to prevent the adjacent teeth from drifting out of place.
Longevity. With proper care, dental implants have the potential to last a lifetime.
Natural function and easy maintenance. When it comes to eating and oral hygiene, you can treat dental implants in a way that is similar to how you would treat natural teeth.
Learn More About Benefits of Dental Implants
Indications for Dental Implants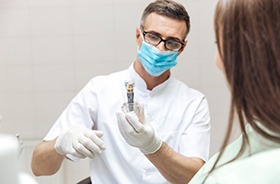 Whether you are missing one tooth, several teeth, or all of your teeth, dental implants may be a suitable treatment for you.
Missing One Tooth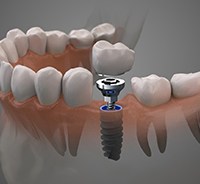 To replace just one tooth, Dr. Aveni will insert a single dental implant in your jawbone. Then, he will restore it with a custom-made crown.
Learn More About Single Tooth Implants
Missing Multiple Teeth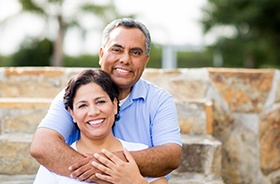 An implant-supported bridge is often the best solution for replacing multiple missing teeth in a row. This type of restoration is supported by two dental implants and their accompanying crowns, which are placed on opposite ends of the empty space. The crowns support an artificial tooth (or teeth) between them.
Learn More About Missing Multiple Teeth
Missing All Teeth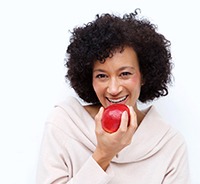 It is possible to replace an entire arch of missing teeth with a number of strategically placed dental implants (usually 6 – 8 implants). An implant-supported denture may be removable and simply "snap" onto and off of the implants, or it may be permanently attached to the implants.
Start to Finish Convenience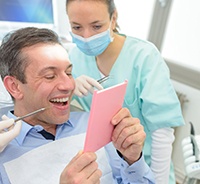 Many dental offices in our area must refer patients to an outside specialist for the implant placement surgery. However, because Dr. Aveni has advanced implant training, he is able to perform the surgery right here in our dental office. You can, therefore, save time on travel and receive your replacement tooth roots from a doctor you already know and trust. After the implants have bonded with your body, you will come right back here for the restoration phase of treatment.
Understanding the Cost of Dental Implants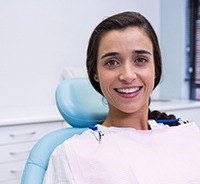 The cost of dental implants varies from patient to patient. Preliminary work, the implant placement surgery, and the restoration phase of treatment each come with its own price. When you visit us for your consultation, Dr. Aveni will design a custom plan for replacing your lost teeth, and we will provide you with a personalized estimate of the plan's costs. Remember that although dental implants may seem expensive, they are a worthwhile investment that could provide you with outstanding oral health benefits and many years of reliable function.