Dental Implants — Plymouth, MA
The Best Way to Replace Missing Teeth
Dental implants in Plymouth, MA are the best tooth replacement treatment that modern dentistry has to offer. They replace both the roots and the crowns of lost teeth, thus providing outstanding stability, natural function, and remarkable comfort. Dr. Aveni is an experienced implant dentist who can perform this potentially life-changing treatment from start to finish. To learn more about how our team may be able to help you experience the benefits of dental implants, contact us today to schedule a consultation.
Why Choose Aveni Dental Professionals For Dental Implants?
1

Start-to-Finish Treatment from a Highly Experienced Dentist

2

Permanently Replace Any Number of Missing Teeth

3

Free, No-Obligation Consultation & Flexible Payment Options
What Are Dental Implants?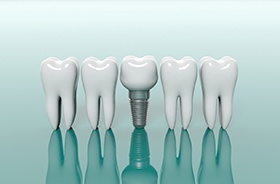 A dental implant is a prosthetic tooth root. This small titanium post can be placed directly into the jawbone where the missing tooth's roots once were. Once there, the biocompatible titanium will fuse with the surrounding tissues to essentially become part of the jaw. After it has fully integrated with the jawbone, Dr. Aveni will place your final restoration on top of it via a small connector piece called an abutment. A single dental implant can support one or two replacement teeth, while several can be used to anchor larger restorations into place, such as a dental bridge, partial, or full denture. No matter how many teeth you are missing, rebuilding them from the roots up with dental implants gives you a smile that looks, feels, and functions just like natural.
The Dental Implant Process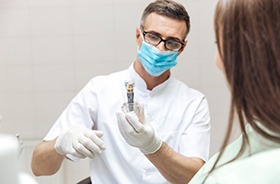 Many dental offices in our area must refer patients to an outside specialist for the implant placement surgery. However, because Dr. Aveni has advanced implant training, he is able to perform the surgery right here in our dental office. You can, therefore, save time on travel and receive your replacement tooth roots from a doctor you already know and trust. After the implants have bonded with your jawbone, you will come right back here for the restoration phase of treatment.
What to Expect When Getting Dental Implants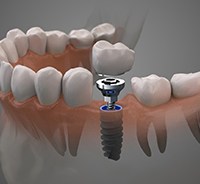 After Dr. Aveni ensures that you are a candidate for dental implants, he will reschedule you for implant placement surgery. During the surgery, he places a titanium, prosthetic tooth root into the bone. Then, a remarkable process known as osseointegration begins. The dental implant will actually fuse with the jawbone, enabling it to provide the strongest base possible for the crown that will eventually go on top of it.
Osseointegration usually takes at least a few months. Following it, you will return to our office to have an abutment (a small connector piece) attached to the implant. The abutment will secure your custom crown in place. Then, during your final appointment, we will place your custom-made crown, bridge, or denture on top of the implants via the abutment.
Benefits of Dental Implants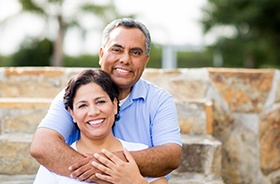 If you have lost one or more teeth, there are several treatment options that might be able to fill in those gaps in your mouth. Each of those choices offers distinct advantages and disadvantages. However, when you weigh the long-term benefits of various tooth replacement treatments, there is one that stands out from the pack: dental implants. Read on as we discuss some of the reasons why dental implants are considered to be the gold standard in tooth replacement.
Natural Form & Function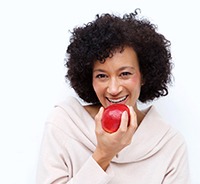 Dental implants replace the roots of lost teeth, and restorations on top of the implants replace the visible portions of those teeth. This unique structure enables dental implants to provide outstanding function that feels extremely natural. You will be able to eat practically any food without taking special precautions or worrying that your new teeth will become destabilized. Many patients find that their implant-supported teeth are so comfortable that it is easy to forget the implants are there!
Remarkable Aesthetics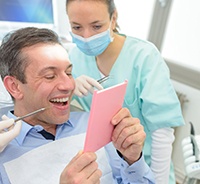 Dr. Aveni carefully designs dental implant restorations so that their appearance is as natural as possible. He pays great attention to their shape, size, and color, making sure that each of these elements works well with a patient's oral anatomy and their facial characteristics. Once your implants receive their restorations, it is high unlikely that onlookers will be able to tell that you ever suffered any degree of tooth loss.
Maintain A Youthful Appearance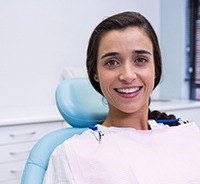 After you lose a tooth, a natural process known as resorption begins; the body recycles the bone that once supported the tooth. Over time, so much of the jaw's mass can be lost that it begins to change shape. A "sunken" facial appearance may result. Dental implants stimulate the jawbone and help to keep it as strong and whole as possible, thus helping your face to retain its natural, youthful shape.
Easy Maintenance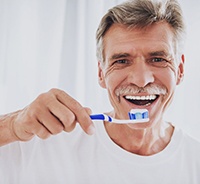 Caring for dental implants is quite simple. In fact, you can care for them in almost the same way that you would care for natural teeth. Thorough oral hygiene habits, as well as regular dental visits, will play a pivotal role in making sure that your restored smile stays as clean, functional, and healthy as possible.
Longevity
Traditional tooth replacement options, such as dentures and bridges, might last for 5 – 10 years or so before replacement becomes necessary. Dental implants, on the other hand, have the potential to last for many decades if they receive proper care.
Protection for Remaining Natural Teeth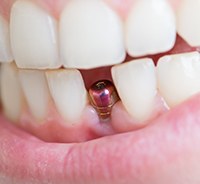 When you lose a tooth, the ones around it may begin to drift out of their proper positions. Dental implants serve as placeholders; they help to ensure that all of your teeth stay where they belong. Additionally, the dental implant process usually does not require that any of a patient's remaining natural teeth be altered or extracted.
Who Dental Implants Can Help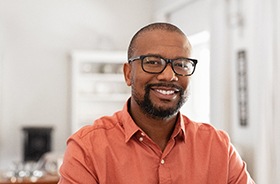 Whether you are missing one tooth, several teeth, or all of your teeth, dental implants may be a suitable treatment for you.
Missing 1 Tooth
To replace just one tooth, Dr. Aveni will insert a single dental implant in your jawbone. Then, he will restore it with a custom-made crown.
Missing Multiple Teeth
An implant bridge is often the best solution for replacing multiple missing teeth in a row. This type of restoration is supported by two dental implants and their accompanying crowns, which are placed on opposite ends of the empty space. The crowns support an artificial tooth (or teeth) between them.
Missing All Teeth
It is possible to replace an entire arch of missing teeth with a number of strategically placed dental implants (usually 6 – 8 implants). An implant denture may be removable and simply "snap" onto and off of the implants, or it may be permanently attached to the implants.
Learn More About Implant Dentures
Understanding the Cost of Dental Implants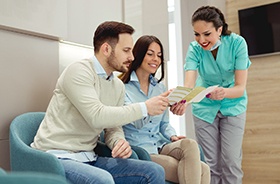 The cost of dental implants varies from patient to patient. Preliminary work, the implant placement surgery, and the restoration phase of treatment each come with its own price. When you visit us for your consultation, Dr. Aveni will design a custom plan for replacing your lost teeth, and we will provide you with a personalized estimate of the plan's costs. Remember that although dental implants may seem expensive, they are a worthwhile investment that could provide you with outstanding oral health benefits and many years of reliable function.