Dental Implants — Plymouth, MA
The Best Way to Replace Missing Teeth
Dental implants in Plymouth, MA are the best tooth replacement treatment that modern dentistry has to offer. They replace both the roots and the crowns of lost teeth, thus providing outstanding stability, natural function, and remarkable comfort. Dr. Aveni is an experienced implant dentist who can perform this potentially life-changing treatment from start to finish. To learn more about how our team may be able to help you experience the benefits of dental implants, contact us today to schedule a consultation.
Why Choose Aveni Dental Professionals For Dental Implants?
1

Start-to-Finish Treatment from a Highly Experienced Dentist

2

Permanently Replace Any Number of Missing Teeth

3

Free, No-Obligation Consultation & Flexible Payment Options
What Are Dental Implants?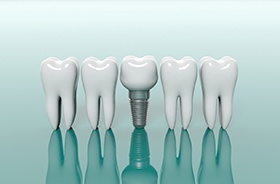 A dental implant is a prosthetic tooth root. This small titanium post can be placed directly into the jawbone where the missing tooth's roots once were. Once there, the biocompatible titanium will fuse with the surrounding tissues to essentially become part of the jaw. After it has fully integrated with the jawbone, Dr. Aveni will place your final restoration on top of it via a small connector piece called an abutment. A single dental implant can support one or two replacement teeth, while several can be used to anchor larger restorations into place, such as a dental bridge, partial, or full denture. No matter how many teeth you are missing, rebuilding them from the roots up with dental implants gives you a smile that looks, feels, and functions just like natural.
The 4 Step Dental Implant Process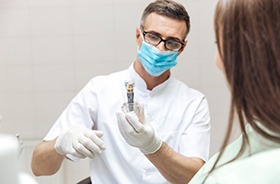 The dental implant process takes place across multiple treatment stages over the course of several months. That may seem like a long time, but the end results are well worth it! Here at Aveni Dental Professionals, our experienced team is able to handle this complex process from beginning to end; you will not have to worry about facing the uncertainties of dealing with an unfamiliar dental practice.
Exactly how dental implants work in Plymouth varies from case to case. However, there are four main steps that patients must go through: consultation, implant placement surgery, osseointegration, and restoration.
Initial Dental Implant Consultation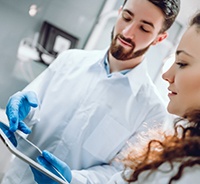 During your consultation, your implant dentist in Plymouth will thoroughly examine your mouth and learn about your medical history. We may use our advanced imaging equipment to get a glimpse of your oral structures beneath the gumline. Then, we will be able to tell you whether you qualify for dental implants right away or you need some preliminary treatments, such as a bone graft or gum disease therapy. We will thoroughly explain what you can expect during your upcoming journey. Feel free to ask any questions you might have — we want our patients to feel completely confident about their treatment choices!
Dental Implant Surgery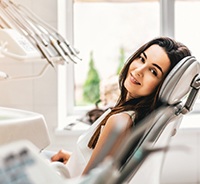 Many dental offices in our area must refer patients to an outside specialist for the implant placement surgery. However, because our dentists have advanced implant training, our team is able to perform the surgery right here in our dental office. You can, therefore, save time on travel and receive your replacement tooth roots from a doctor you already know and trust.
During the surgery, we place a prosthetic tooth root, usually made out of a titanium alloy, into the bone. We do this by first making an incision in the gums, then carefully inserting the implant at a precise, pre-planned position. Once the incision is closed, you can go home to begin your recovery.
Dental Implant Osseointegration & Abutment Placement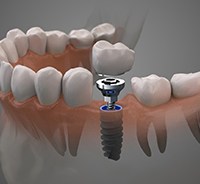 Soon after your implant placement surgery, a remarkable process known as osseointegration will begin. The dental implant will actually fuse with the jawbone, enabling it to provide the strongest base possible for the crown that will eventually go on top of it.
Osseointegration typically takes a few months. Afterward, you may undergo a second minor surgery to expose your dental implants. They will have healing caps placed on them, and later they will get abutments (small connector pieces) attached to them. (Some patients receive abutments at the same time as their initial implant surgery.)
Delivery of Dental Implant Restorations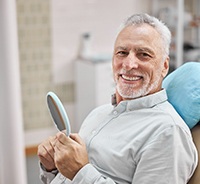 The restoration phase of treatment is when we design and place your permanent new teeth. In order to do so, we take detailed images and impressions of your mouth. Your dentist will send that data, along with detailed notes about how to construct the restorations, to a laboratory, which will then fabricate your crown, bridge, or denture. Once they are ready, we verify their fit and make sure you are satisfied with their aesthetics before we attach them to your dental implants in Plymouth. Then, you can go off and begin to enjoy all the wonderful benefits of your renewed smile!
Benefits of Dental Implants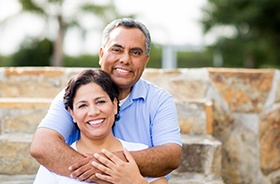 Day-to-Day Benefits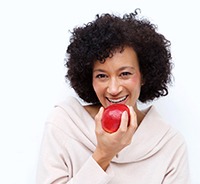 Some ways in which dental implants in Plymouth may positively affect your everyday life include:
Natural form and function. You will be able to eat practically any food without taking special precautions or worrying that your new teeth will become destabilized. Many patients find that their implant-supported teeth are so comfortable that it is easy to forget the implants are there!
Beautiful aesthetics. Our team carefully designs dental implant restorations so their appearance is as natural as possible. We pay great attention to their shape, size, and color, making sure that each of these elements works well with a patient's oral anatomy and their facial characteristics. Once your implants receive their restorations, it is high unlikely that onlookers will be able to tell that you ever suffered any degree of tooth loss.
Easy maintenance. Caring for dental implants is quite simple. In fact, you can care for them in almost the same way that you would care for natural teeth. Thorough oral hygiene habits, as well as regular visits to your implant dentist in Plymouth, will play a pivotal role in making sure that your restored smile stays as clean, functional, and healthy as possible.
Health Benefits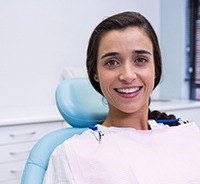 The benefits of dental implants in Plymouth also extend to your health. Some of the advantages you might experience include:
Jaw preservation. After you lose a tooth, a natural process known as resorption begins; the body recycles the bone that once supported the tooth. Over time, so much of the jaw's mass can be lost that it begins to change shape. A sunken facial appearance may result. Dental implants stimulate the jawbone and help to keep it as strong and whole as possible, thus helping your face to retain its natural, youthful shape.
Protection for your natural teeth. When you lose a tooth, the ones around it may begin to drift out of their proper positions. Dental implants serve as placeholders; they help to ensure that all of your teeth stay where they belong. Additionally, the dental implant process usually does not require that any of a patient's remaining natural teeth be altered or extracted.
Systemic health improvements. Dental implants enable you to eat a balanced diet that can benefit you from head to toe. They might even lower the risk of some disease that are correlated with tooth loss.
Long-Term Benefits
Some of the long-term benefits of dental implants include:
Monetary value. Traditional tooth replacement options, such as dentures and bridges, might last for 5 – 10 years or so before replacement becomes necessary. Dental implants, on the other hand, have the potential to last for many decades if they receive proper care. Their longevity makes them an excellent monetary value.
Save time. Because maintaining dental implants is fairly simple, you may save a lot of time that you would otherwise have spent maintaining and replacing dentures.
Lower risk of common oral health problems. Some oral health problems, such as sensitivity and gum disease, are more common among seniors. Dental implants do not suffer from sensitivity, and they can lower your risk of gum disease by encouraging you to take excellent care of your mouth.
Who Dental Implants Can Help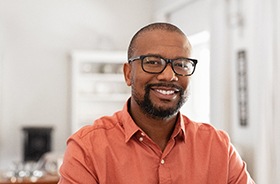 When you visit us for your consultation, we will carefully evaluate your needs and explain your treatment options. Most adults with missing teeth qualify for dental implants, either right away or after one or more preparatory procedures. Because this is a versatile treatment, it may be able to help you whether you are missing one tooth, a few teeth, or even all of your teeth. Dental implants have the power to rebuild all sorts of smiles!
Who Is a Good Candidate for Dental Implants?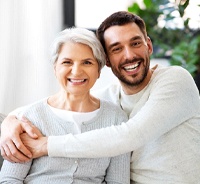 The vast majority of adults with missing teeth can receive dental implants. Before we approve you for the procedure, however, your dental implant dentist in Plymouth will want to make sure that you meet some basic criteria:
Fair overall health. You must be well enough to recover from minor surgery. If you have any chronic health conditions, such as diabetes, these should be well-managed.
Good oral health. Gum disease is particularly dangerous for dental implants because the bacteria that causes it may contribute to dental implant failure. Our team will recommend any necessary treatment to improve your oral health before you receive implants.
Adequate jawbone volume. Your jawbone must be strong enough and large enough to support dental implants. If it is not, it may become so after a bone graft.
Good habits. For your dental implants to stand the test of time, you should have an excellent oral hygiene routine. It is also ideal if you do not smoke.
Missing 1 Tooth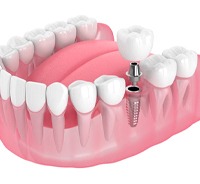 Replacing one tooth with a dental implant is a fairly straightforward procedure. First, we insert a single dental implant into the jawbone at the site of the missing tooth. After the implant has had time to bond with the surrounding tissue, we restore it with a custom-made, lifelike crown.
This type of single tooth replacement is superior to a traditional bridge because it rebuilds the tooth from the root up. Since it is self-supporting, it will probably allow all of your natural teeth to remain intact. A dental implant is also stronger and more natural feeling than a regular bridge.
Missing Multiple Teeth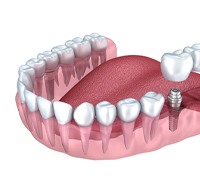 There are a few different ways to address the loss of multiple teeth. If your missing teeth are all adjacent to one another, we may recommend an implant-supported bridge. Typically, we place one implant at each end of the gap. The implants each support a crown, and the crowns have one or more artificial teeth between them.
If your lost teeth are not adjacent to each other, you might qualify for an implant partial denture. With just a few strategically placed implants, we may be able to provide the base of support for a prosthetic that replaces multiple teeth at various places throughout a dental arch.
Missing All Teeth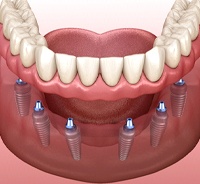 If you have lost all or most of your teeth throughout an arch, we will likely recommend that you receive an implant denture. There are different types of implant dentures, including those that are easy for patients to remove on their own, as well as those that are permanently fixed in place. In most cases, it takes 4 – 6 dental implants per arch to support a denture, but that number can vary according to a patient's unique circumstances. Occasionally, we are able to retrofit a patient's existing traditional denture to work with dental implants in Plymouth.
Understanding the Cost of Dental Implants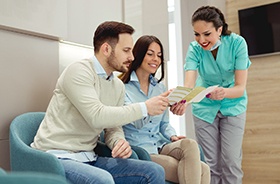 The cost of dental implants in Plymouth varies from patient to patient. Preliminary work, the implant placement surgery, and the restoration phase of treatment each comes with its own price. When you visit us for your consultation, our team will design a custom plan for replacing your lost teeth, and we will provide you with a personalized estimate of the plan's costs. Remember that although dental implants may seem expensive, they are a worthwhile investment that could provide you with outstanding oral health benefits and many years of reliable function. Plus, we want you to be able to afford your treatment. We can help you with insurance, assist you in applying for financing, and provide you with a FREE initial consultation.
Preliminary Treatments & Dental Implant Surgery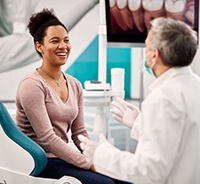 Many patients must undergo one or more preliminary treatments, such as extractions or gum disease therapy, before they receive dental implants. Each of these services comes with its own cost.
The implant surgery itself incurs a separate fee, which depends largely on how many implants we place and the type of sedation used. Since we are able to perform this part of the implant process right here in our office, you will not have to worry about dealing with an outside practice's pricing and payment policies.
The Parts of Your Dental Implant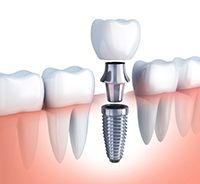 Not all dental implant treatments are the same. The following will affect your overall cost:
How many dental implants you require. Logically, placing more implants requires more time and incurs a higher fee.
The specific type of implants you receive. Dental implants in Plymouth come from a variety of manufacturers and can be made out of different materials.
The type of restoration you get. For example, a multi-unit bridge tends to cost more than a single crown.
How Dental Implants Can Save You Money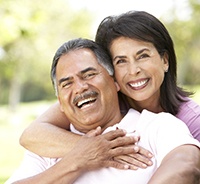 Other forms of tooth replacement, such as traditional bridges and dentures, cost less upfront than dental implants. However, implants are the better value because they have the potential to last a lifetime. Bridges and dentures, on the other hand, might last for just 5 – 10 years before you have to pay for replacements. The outstanding fit of their restorations can also prevent gum sores, sparing you from having to seek treatment for that painful issue.
Does My Dental Insurance Cover Dental Implants?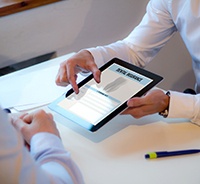 It is becoming more and more common for dental insurance to cover dental implants. You should check the details of your specific policy to see how it applies. If it does not cover the implants themselves, it is likely to cover your preliminary treatments and/or your final restorations. Our team has years of experience in dealing with dental insurance, and we will strive to help you derive the greatest value possible from your benefits.
Making Dental Implants Affordable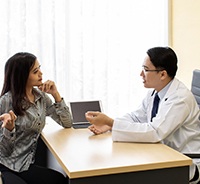 As your implant dentist in Plymouth, we want to help you afford your treatment! We offer some provisions that may make it easier for you to fit your procedure into your budget:
A FREE initial consultation. You can learn more about the implant treatment process while paying nothing out of pocket.
Most patients qualify for low-interest financing through CareCredit, which allows you to pay for your treatment over time.
Essential Dental savings plan. This discount plan, designed for patients without insurance, allows you to enjoy reduced costs on virtually all dental services.
Dental Implant FAQs
The team at Aveni Dental Professionals is ready to help you take advantage of dental implants in Plymouth. Before you schedule your consultation with us, though, it is understandable if you have questions about the road in front of you. That is why we have put together the following brief list of FAQs, along with their answers. If you do not see the specific information you were looking for, give us a call. Our team will be happy to personally assist you.
How Long Do Dental Implants Last?
Research has shown time and again that dental implants are a long-term tooth replacement solution. In the majority of cases, the implants are still thriving even 10 years after placement. With proper care, they could even last a lifetime. The restorations on top of implants also last a long time; they commonly endure for at least a decade. Our team will provide you with guidance to help your restored smile stand the test of time.
What Can Cause Dental Implants to Fail?
The most common cause of dental implant failure is an infection known as peri-implantitis. It occurs when harmful bacteria attack the tissue around an implant. Eventually, the jawbone and gums can become so badly damaged that the implant loses its base of support. Poor oral hygiene is commonly to blame for peri-implantitis, though other factors can also contribute to it. Additional possible causes of dental implant failure include certain medical conditions, physical trauma, and unsuccessful osseointegration.
Dental implant failure is rare, but if you ever believe you are experiencing it, contact your implant dentist in Plymouth right away. We might be able to address the problem before it becomes too serious.
What Should I Do if My Dental Implant Gets Loose?
Try not to chew or bite with the loose implant, and call our office to schedule an appointment as soon as possible. Our team will assess the problem and recommend your next steps. In some cases, a loose-feeling implant is actually just a loose restoration, which we may be able to tighten or replace without performing any extensive or invasive procedures. In other cases, the issue lies beneath the gumline, and surgical intervention might be necessary.
Am I Too Young to Get Dental Implants?
We do not place dental implants in patients' whose jaws are still developing. In general, 18 is the youngest age at which someone can undergo the treatment (in some cases, even that is too young). We will use advanced imaging equipment to assess the size and stature of your jawbone before we determine whether you are a candidate for dental implants. Even if you are too young for them right now, you can still talk to us about them. We can help you prepare for your future procedure by answering your questions and coaching you on how to keep your mouth healthy in the meantime.
Am I Too Old to Get Dental Implants?
There is no upper age limit for dental implant treatment. When you visit us for your consultation, we will evaluate your candidacy based on factors like your oral and overall health. Many seniors have benefited from dental implants — you may be able to as well. However, it is worth noting that many older individuals have health conditions that can make dental implant procedures a bit more complicated. For example, you might have a weak jawbone. In most cases, we can successfully deal with such issues and allow our patients to enjoy the form of tooth replacement that they desire.
How Long Does It Take to Recover from Dental Implant Surgery?
Most patients feel well enough to resume their normal activities within a day or two of surgery. However, you should continue to avoid strenuous physical exertion for a while; too much exercise could slow down healing. Some bleeding, swelling, and discomfort may continue for a week or longer, but these symptoms are usually easy to manage with painkillers and other practical measures. Your bone may take several months to fully recover as it forms a strong bond with your dental implants in Plymouth.
Can I Get Dental Implants if I Smoke?
We determine candidacy for dental implants on a case by case basis. Your implant dentist in Plymouth will evaluate your oral health, overall health, and jawbone density to determine whether the treatment is right for you. Keep in mind that while smoking does not automatically disqualify you from getting dental implants, it does increase your risk of dental implant failure. It can slow down your healing after surgery and increase your risk of infection. At the very least, you should stop smoking during the weeks and months immediately before and after your implant surgery. Of course, you can view this as an opportunity to kick the habit for good.
Will People Be Able to Tell That I Have Dental Implants?
Although dental implants are dark in color, they are usually completely concealed by the gums and the restorations on top of them. Moreover, we carefully design restorations to look as natural as possible. Their size, shape, and color are all customized to complement a patient's unique facial characteristics and oral anatomy. Unless you choose to brag about your new teeth, onlookers should not be able to tell that they are not the same ones you have had since your youth.
How Soon After a Tooth Extraction Can I Get Dental Implants?
That depends. In some cases, it is possible to place a dental implant immediately after a tooth extraction — perhaps even during the same appointment. In other cases, though, a waiting period of several months is necessary. This allows the mouth to heal. Be careful, though, that you do not wait too long after extractions to pursue implant treatment. Delays could allow your remaining natural teeth to shift out of place or even lead to jawbone shrinkage.
Dental Implant Post-Op Instructions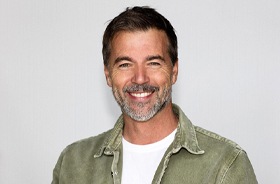 After your dental implant placement surgery, you will go through a recovery period — but there is no need to worry. If everything goes well (which it usually does), you will be back to feeling like yourself quite quickly. Read on below to discover some practical dental implant post-op instructions in Plymouth.
What to Do Directly After Dental Implant Surgery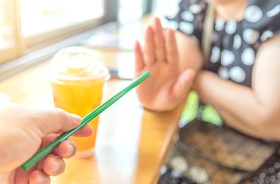 Blood clots should form at your surgical sites very soon after your procedure. It is important that you do not dislodge them. Here are some tips to help you keep them in place:
Do not spit. Instead, use tissues or simply swallow excess saliva.
Do not engage in any type of smoking, whether it is cigarettes, e-cigs, or anything along those lines.
Avoid the use of drinking straws.
Do not touch the surgical sites with your tongue or fingers.
Common Side Effects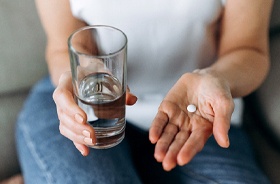 During the first few days of your recovery, you can expect to experience:
Intermittent bleeding. You can manage this with gauze and light pressure.
This may last for a few days or up to a week. Cold compresses can help to keep it to a minimum.
General discomfort. Pain medication, as well as avoiding strenuous activity, can help you to be as comfortable as possible.
If you are concerned that anything you are experiencing might not be normal, contact your implant dentist in Plymouth right away. We are ready to answer your questions!
Diet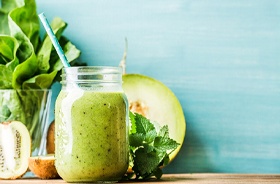 At first, you should adhere to a no-chew diet, which means you should consume mostly things like pudding, applesauce, smoothies, and brothy soups. When you are feeling up to it, you can progress to a fork-tender diet, eating things like meatloaf, soft breads, and anything else that is easy to cut with the side of a fork. Depending on how many of your natural teeth are left to help you chew, you may be able to resume relatively normal eating habits when the soft tissue in your mouth is mostly healed.
Oral Hygiene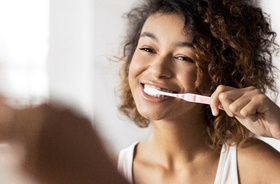 Keeping a clean mouth is an important part of preventing infections. You should:
Brush and floss like normal (with the exception that you should be extremely careful around your surgical sites)
Rinse with warm saltwater 2 – 3 times a day. This can help to alleviate swelling and discomfort.
Use a prescription mouthwash if you have it, and avoid mouthwashes with a high alcohol content.
What to Do After Your New Teeth Are Attached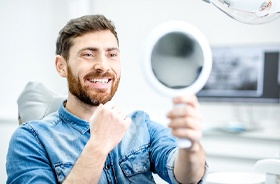 After your restorations are attached to your dental implants in Plymouth, you might experience a bit of tenderness and excess saliva production. However, there should not be any significant pain, bleeding, or downtime. It might be wise to eat soft foods while you adjust to the feeling of your new teeth.
Dental Implant Failure & Salvage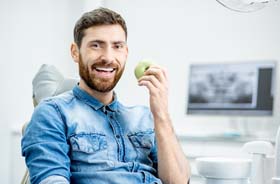 Dental implants are successful in the vast majority of cases; you can expect to enjoy your replacement teeth for many years. However, you must be aware that there is always a small chance of dental implant failure. If you ever suspect that something is off with your implants, call us right away. We will evaluate the situation and recommend a treatment. Hopefully, we will be able to preserve your restored smile so you can continue enjoying its many benefits.