Dental Bridge – Plymouth, MA
"Bridge" the Gap Between Your Teeth
If you have lost a tooth or two, you may be embarrassed by that empty space. You might even find it difficult to enjoy certain foods. You may benefit from a dental bridge. This type of restoration can close the gap between your remaining natural teeth, prevent future dental problems, and provide you with sturdy function. If you believe a dental bridge may benefit you, or if you would simply like to learn more about this service, contact Aveni Dental Professionals to schedule a consultation.
Why Choose Aveni Dental for Dental Bridges?
1

All-porcelain restorations available

2

Experienced dentist with advanced restorative training

3

Empathetic team of professionals
What Is a Dental Bridge?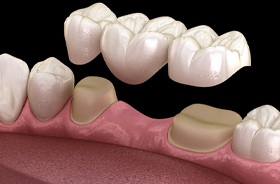 There are several types of dental bridges. The most common type, a traditional bridge, is a three-part prosthetic. It has a crown on each end, which get placed over the teeth that are next to the empty space (the abutment teeth). The crowns support a pontic (an artificial tooth) that "bridges" the gap. In some cases, multiple pontics may be between the crowns.
We usually recommend all-porcelain bridges because they closely resemble natural teeth. However, it is also possible to construct bridges out of various metals, such as gold or silver.
How Do Dental Bridges Work?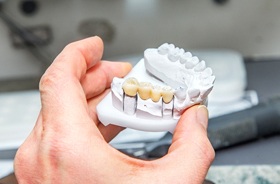 Benefits of Dental Bridges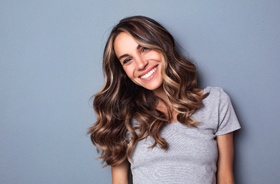 A traditional dental bridge offers some significant benefits:
The bridge process usually takes just two appointments.
A bridge costs less than alternative tooth replacement solutions. Dental insurance usually covers at least a portion of the price of this treatment.
You can expect your bridge to stand up well to normal eating and drinking.
Your bridge may last for 10 years or longer.
Prevent dental drift. When you lose a tooth, the nearby teeth may drift out of place and cause dental misalignment. A bridge acts as a placeholder that keeps your teeth in their correct positions.
Is a Dental Bridge Right for Me?