Root Canal Therapy – Plymouth, MA
Relieve Your Pain and Save Your Suffering Tooth
Are you suffering a painful, throbbing toothache, or is one of your teeth extremely sensitive to hot and cold? It is possible that you need root canal therapy in Plymouth, MA. This treatment has the potential to relieve your pain and save a severely damaged or decayed tooth from extraction. Although root canal therapy has a reputation for being frightening and painful, modern dental techniques and our team's gentle touch make the treatment much easier and more comfortable than most patients expect.
Why Choose Aveni Dental for Root Canal Therapy?
1

Gentle, thorough care

2

Save a damaged or decayed tooth from extraction

3

Experience pain relief and restored dental function
Do I Need Root Canal Therapy?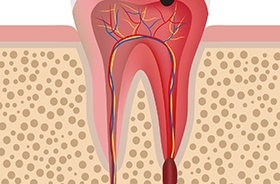 Root canal therapy is necessary when the pulp, the innermost layer of a tooth, becomes infected or damaged. This can happen due to decay or trauma. Problems with tooth pulp do not always cause obvious symptoms. However, many patients notice the following before they undergo root canal treatment:
A severe, throbbing toothache
A tooth that is darker than the ones around it
A tooth that is extremely sensitive to hot and cold stimuli
A tooth that is very sensitive to pressure
Visible damage to a tooth (such as a large cavity, chip, or crack)
A pimple-like bump on the gums
The Root Canal Process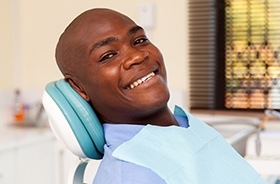 Before our team begins to work on your tooth, we will administer local anesthesia so you will feel little to nothing during your procedure. We want you to be as comfortable as possible!
Once the treatment begins, your dentist will access the interior portion of the tooth. They will then use special tools to clean out the damaged or infected tissue and remove the tooth's nerve. Then, they will fill in the tooth with a special material called gutta-percha to help it maintain its shape and structure. After root canal therapy, a crown is usually necessary to protect the weakened tooth from further damage.
The Benefits of Getting a Root Canal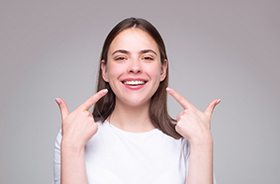 Here are some benefits you may experience as a result of root canal treatment:
Root canal therapy can preserve a damaged tooth that would otherwise need to be extracted. This can keep your smile intact and prevent you from spending a lot of money on tooth replacement.
Many teeth that are treated with root canal therapy function well for decades afterward. In fact, it may last for your entire lifetime.
By removing the nerve of a damaged tooth, we can put a permanent end to your toothache.
The crown on your treated tooth will likely last for 10 – 15 years or longer if it receives proper care. Good oral hygiene and regular dental visits are essential.
Understanding the Cost of Root Canals
The cost of a root canal is not always predictable, so we will not be able to provide you with a price estimate until you visit us. In the meantime, we invite you to read the information below to gain an idea of what factors have a bearing on the financial side of this treatment and the provisions that may make your care more affordable.
Factors That Can Affect Root Canal Cost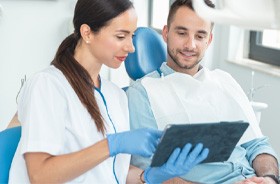 A few factors that can impact the cost of root canal therapy for patients in Plymouth include:
The specific tooth that requires treatment. Some teeth have more complex anatomy than others. For example, molars have multiple roots, so they may cost more to treat than front teeth.
The overall difficulty of the case. We can usually perform root canal therapy right here in our office. In some cases, though, we must refer patients to an outside specialist whose pricing structure may be very different from our own.
Additional services. You may require a crown after your root canal, which will add to the overall cost of your care.
Is It Cheaper to Pull My Tooth?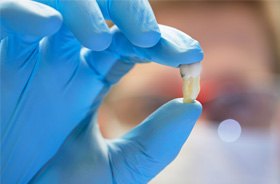 The upfront cost of a tooth extraction is lower than that of root canal therapy. However, we encourage patients to think about the long-term financial implications of their treatment. With root canal therapy, you get to enjoy a consistently successful treatment that has the potential to equip your tooth for years of reliable, pain-free function. It is an excellent value!
On the other hand, if you get a tooth removed, you may have to pay quite a bit to replace it. For example, a dental implant may cost a few thousand dollars. If you do not replace the tooth in a timely manner, you may end up suffering from complications like dental drift and future tooth loss.
Does Dental Insurance Cover Root Canals?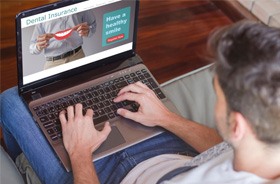 In most cases, yes, dental insurance covers root canal therapy. Depending on your policy, this procedure could be classified as a minor or major service, so as much as 80% or as little as 40% of its cost might be covered. Our team is used to dealing with the details of insurance, so we can help you understand your benefits and use them in the most advantageous way possible.
COther Options for Making Root Canal Therapy Affordable
As an emergency dentist, we understand that often, patients need a bit of help to afford their care. That is why we offer the following provisions:
Financing. Most patients are eligible for low-interest financing through CareCredit, a third-party lender. The application process is fast, and you may be able to choose a monthly payment amount that fits your budget.
Essential Dental Plan. This discount plan is designed for patients without insurance. Signing up is easy, and you will be able to use your benefits right away. You can enjoy reduced fees on virtually all of the services available at Aveni Dental Professionals, including root canal therapy.
You should not let concerns about cost hold you back from getting the care you need. Contact us today to learn more about root canal therapy and how we may be able to help you afford it.
Root Canal FAQs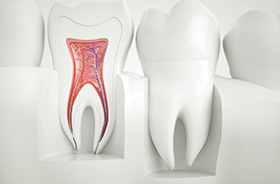 If you need a root canal in Plymouth, our team is ready to serve you. However, we completely understand if you want to gather more information about this procedure before you commit to it. To help you out, we have compiled the following list of FAQs. If you do not see the answer to your specific question, contact us so we can personally assist you.
How Long Does It Take to Recover from a Root Canal?
People tend to heal at different rates. In general, though, most patients are able to go back to work or school the day immediately after their root canal treatment. However, if your job requires a lot of physical activity, it would be wise to take a few extra days off so you do not accidentally slow down your body's healing process.
You can expect your mouth to be sore for several days. Over-the-counter pain relievers should be able to take the edge off of your discomfort. It would also be wise to alter your diet so you are not consuming any hard, sticky, or chewy foods. Try to eat only soft items that are easy to bite and swallow.
What Should I Do Before a Root Canal?
Try to eat a nutritious, filling meal before your procedure; you may not feel like eating immediately afterward. You might also take a pain reliever so you will feel minimal discomfort after the local anesthesia used during your procedure begins to wear off. Additionally, try to get a full night of rest prior to your appointment. Getting adequate sleep will support your body's healing process and minimize any stress you might feel in connection with your treatment.
How Long Do Root Canals Last?
Root canal therapy is a consistently successful treatment. Most patients go on to enjoy a lifetime of function from their treated tooth. Your crown, on the other hand, may eventually wear out (crowns typically last for 10 – 15 years or so). You can extend your restoration's lifespan by sticking to a good oral hygiene routine and taking other steps to take excellent care of your smile.
Do Root Canals Ever Have to Be Redone?
Root canal therapy is successful in most cases. However, there is always a small chance that retreatment will be necessary down the road. This can occur if the original procedure did not completely clear out the infected tissue from within a tooth. It is also a possibility if a new infection occurs in a previously treated tooth. If you ever need to undergo retreatment, your dentist in Plymouth will do all they can to make the process as easy and comfortable as possible.