All-on-4 — Plymouth, MA
Streamlined Full Arch Tooth Replacement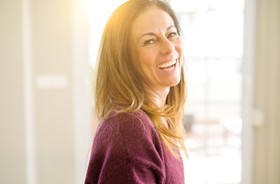 Dental implants replace the roots of lost teeth. Does that mean, then, that you need an implant for every single missing tooth? No. Thanks to All-on-4 in Plymouth, we can replace an entire arch of teeth with as few as four dental implants. Even more remarkable is the fact that we can often insert the dental implants and restore them with a beautiful temporary denture on the same day. If you would like to learn more about this treatment, contact Aveni Dental Professionals today. We are eager to help you rebuild a complete, strong, and healthy smile.
Why Choose Aveni Dental Professionals for All-on-4?
1

Experienced & Skilled Dental Team

2

Streamlined Treatment

3

Get Started with a FREE Consultation
How Do All-on-4 Implants Work?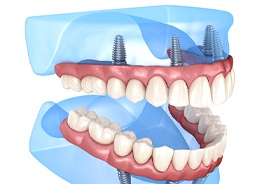 During the All-on-4 procedure, we insert four dental implants in Plymouth into the jawbone at strategic locations. Two go toward the front of the bone and two go toward the back at an angle. This approach utilizes areas of the jaw that are naturally strong and thick, which means that most patients can take advantage of All-on-4 without first undergoing a bone graft procedure. Once the implants are in place, we secure a provisional (temporary) denture on top of them. You can literally arrive at our office with no teeth and leave with a complete smile! After a healing period, your provisional denture will be replaced with a permanent one.
Am I a Candidate for All-on-4 Implants?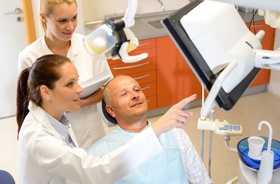 All-on-4 treatment may be right for you if:
You have lost all or most of your teeth throughout one of your dental arches.
You have adequate bone density to support dental implants. (Most patients meet this criterion even without a bone graft.)
You are in fair overall health and are free of gum disease.
If you are not sure if All-on-4 would be a fit for you, visit us for a consultation. Your implant dentist in Plymouth will examine your mouth and let you know about your tooth replacement options. Most patients do qualify for All-on-4, either right away or after some preliminary treatments.
What Are the Benefits of All-on-4 Implants?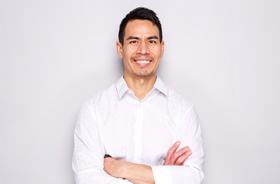 Some of the top benefits of All-on-4 include:
A strong bite. Your All-on-4 denture should be strong enough to stand up to all of your favorite foods.
A natural appearance. We carefully design All-on-4 dentures with the goal of making them look and feel like natural teeth.
Easy maintenance. An All-on-4 denture is permanently fixed to the implants that support it, so you can care for it similarly to how you would care for natural teeth.
Jawbone preservation. Dental implants stimulate the jawbone and prevent much of the deterioration that normally occurs after tooth loss.
All-on-4 vs. Traditional Dental Implants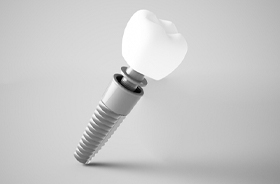 In general, All-on-4 treatment is faster and often less costly than traditional dental implant treatments. It is also less invasive because it usually requires just one surgery as opposed to two or more. Of course, there are instances when traditional treatment is preferrable. For example, using more dental implants can lend greater stability to a denture. Traditional treatments are also more versatile, able to replace any number of teeth rather than just a full arch. Our team will be happy to help you compare the pros and cons of your options before you commit to any form of tooth replacement.