Implant Dentures — Plymouth, MA
The Best Way to Treat Extensive Tooth Loss
Extensive tooth loss can cause a number of issues. For example, you might find it difficult or impossible to enjoy your favorite foods. It is also possible that you feel self-conscious about your smile. Traditional dentures can address those problems, but only to an extent. There is a better solution! Our team often recommends implant dentures in Plymouth as the best way to replace an entire arch of lost teeth. Continue reading to learn more about this remarkable treatment.
Why Choose Aveni Dental Professionals for Implant Dentures?
1

Start to finish dental implant treatment

2

Custom, high-quality restorations

3

Compassionate and friendly team
What Are Implant Dentures?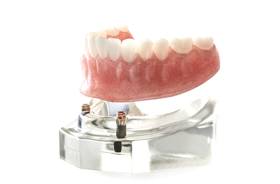 Traditional dentures rest on top of the gums; suction or adhesive holds them in place. Implant dentures are different. They are anchored in the mouth via prosthetic tooth roots (dental implants in Plymouth) that are surgically inserted into the jawbone. They are thus much stronger and sturdier than their traditional counterparts.
There are a couple different types of implant dentures:
Fixed/Permanent Implant Dentures
These are permanently attached to the implants that support them; they can only be removed by a dental professional. In most cases, fixed implant dentures require 4 – 6 dental implants per arch. Many patients enjoy the convenience of always having their replacement teeth in their mouth.
Removable Implant Dentures
Removable implant dentures, also called overdentures, are easy for patients to remove on their own. They are secured on their implants via ball sockets or a bar attachment, and they usually require fewer dental implants than fixed implant dentures.
The Implant Denture Procedure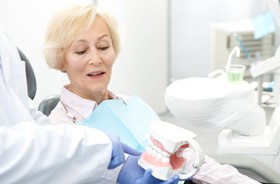 The implant denture procedure can vary from case to case, but it usually goes something like this:
Your implant dentist in Plymouth will determine your candidacy for the treatment and begins to plan the road ahead of you.
Implant placement surgery. After you complete any necessary preliminary treatment, we will surgically insert your dental implants.
After you have healed adequately from the surgery, you will receive a beautiful, custom-designed permanent implant denture.
The entire process may take at least several months, but most patients would agree that the investment of time is well worth it!
Am I a Candidate for Implant Dentures?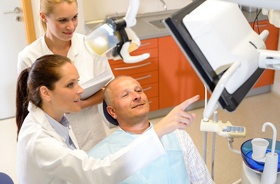 You may be a candidate for implant dentures if:
You have lost a significant number of teeth
You are tired of your traditional dentures
You are free of active gum disease
You are healthy enough to undergo minor surgery
Your jawbone is strong enough to support dental implants
You have excellent oral care habits
Most patients are candidates for implant dentures, either right away or after some preliminary treatment. Our team will do all we can to help you qualify for this potentially life-changing procedure.
Benefits of Combining Dentures & Dental Implants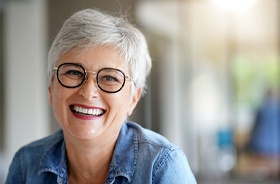 Some of the most noteworthy benefits of implant dentures include:
They provide a strong bite force that can stand up to most foods
The implants stimulate the jawbone and help to keep it strong and whole
You can care for them similarly to how you would care for natural teeth
They are incredibly comfortable
They last much longer than traditional dentures, which makes them an excellent monetary value