Tooth Extractions – Plymouth, MA
Gentle Extractions to Treat and Prevent Dental Problems
Dr. Aveni and our team make every effort to help patients retain their natural dentition for a lifetime. However, tooth extractions in Plymouth, MA are necessary in some cases. This may be due to extensive decay, overcrowding, infection, the need to make room for dentures, or other circumstances. If you need to have one or more teeth extracted, you can expect Dr. Aveni to handle the procedure with gentleness and compassion.
Why Choose Aveni Dental for Tooth Extractions?
1

Gentle care from a dentist with 40+ years of experience

2

Relieve oral pain and improve dental health

3

Tooth replacement options available
What Can I Expect During a Tooth Extraction Procedure?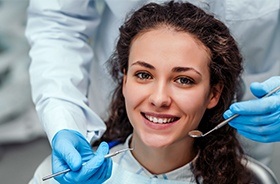 First, we use local anesthesia to numb the area around the tooth. Then, Dr. Aveni grips the tooth with forceps and gently rocks it back and forth in order to break the ligaments that bind it to the surrounding bone. After the tooth is removed, we use gauze to control bleeding and may provide a prescription for pain relief. If an extraction is fairly simple, you should be able to resume your normal routine within a few days after the treatment.