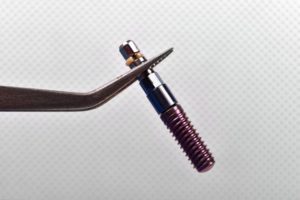 Dental implants are successful in the vast majority of cases. However, there are rare cases in which removing a failed implant in Plymouth becomes necessary. This may be due to an infection, trauma, or other circumstances. If you find yourself with a failed dental implant that must be removed, it is only natural if you feel a little nervous about your procedure. This blog post will give you a basic idea of what to expect.
The Removal Procedure
If it has already been some time since you received your implant, it may have formed a strong bond with the surrounding bone and thus be firmly attached to it. This is true even in cases where an infection has caused the bone to deteriorate. Your dentist or oral surgeon will take great care to minimize the damage to your jaw when they are taking the implant out. However, due to the nature of the procedure, it is often necessary to remove some of the tissue around a failed implant.
In many cases, patients receive a bone graft at the same time as they get their implant removed. Following the surgery, the grafted material will integrate with your natural bone, fortifying it so that it may be able it to support a dental implant again in the future.
You will probably be sedated during your surgery, so you can expect to feel little to nothing while your dental team is working.
After the Implant Removal
You will receive detailed postoperative instructions to help you deal with any swelling or soreness that is a normal result of oral surgery. You might have to take pain medications, temporarily stick to a soft foods diet, and complete a course of antibiotics. It is important that you diligently attend all follow-up appointments with your dentist so they can monitor your recovery.
Placement of a New Implant
In some rare instances, it is possible to place a new implant at the same time the old one is removed. This may be true if the removal site is clean and free of any traces of infection. You should also have adequate bone there to support the new implant. For most patients, though, a waiting period is necessary between the implant removal surgery and placement of a new implant. Typically, this period lasts 4 – 6 months.
If you have a failed dental implant in Plymouth, there is no reason to despair. Your dentist will carefully plan your removal procedure and your future prospects for receiving a new implant. With care from an expert team, you may soon be the proud owner of a complete, healthy smile.
About the Practice
Dr. Steven Aveni, the leader of our team at Aveni Dental Professionals, has decades of experience in his field, and he has completed advanced training in various facets of implant dentistry. If you suspect that one of your dental implants is failing, he is ready to evaluate the problem and design a custom treatment plan. Contact our practice at 508-812-7692 to learn more about us and the services we offer.