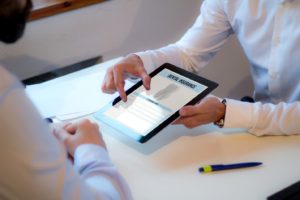 When you experience a dental emergency, the first thing on your mind might be how you can find relief from the pain. The second thing might relate to money. How much will it cost to treat your dental problem? Will your dental insurance help you out? There is good news — most forms of dental insurance in Plymouth, MA do provide coverage for emergency treatment. In this blog post, we will discuss some specifics of how your policy might apply.
Minor Restorative Treatments
Most dental insurance plans cover 70% – 80% of the cost of minor restorative treatment. While the definition of minor treatment varies from policy to policy, it often includes things like non-surgical extractions and fillings.
Major Restorative Treatments
It is normal for dental insurance to cover about half the cost of major restorative treatments. Such treatments usually include crowns and bridges. Root canal therapy is also typically classified as a major treatment, though there are a handful of policies that label it as a minor procedure.
Sedation
Depending on the nature of your dental problem, your emergency dentist in Plymouth, MA might recommend that you be sedated when you are undergoing treatment. Dental insurance policies vary greatly when it comes to sedation, so you can ask your dental team to check whether yours will cover it. If it does cover sedation, it is more likely to help pay for nitrous oxide than for more powerful sedation methods.
Your Annual Maximum
PPO dental insurance plans impose an annual maximum on their policyholders. Each year, the insurance company is willing to pay out a certain amount for treatment. It is normal for the maximum to be in the ballpark of $1,000 – $1,500.
If your emergency treatment will exceed your annual maximum, ask your dental team about other payment options. You may be able to take advantage of low-interest or no-interest financing through a service like CareCredit.
Do Not Delay Treatment
Even if your insurance covers a significant portion of your emergency treatment, you may still have to pay hundreds of dollars out of pocket. Do not let that prospect hold you back from seeking treatment. The longer you hesitate, the worse your dental problem will become — and the more expensive treatment is likely to be. The best thing to do is contact your dentist as soon as you notice that something is off with your oral health. If you catch the problem while it is still in its early stages, you might be able to avert a dental emergency altogether.
Your dental insurance can put a big dent in the cost of a dental emergency. The above information gives you a fair idea of how your policy might apply.
Meet the Author
Dr. Steve Aveni is a general and emergency dentist with more than 40 years of experience. He has completed advanced training in a number of areas, including crowns and other restorative services. To learn more about Dr. Aveni and how our practice can help you cope with oral health problems, contact us at 508-812-7692.