How to Handle Common Dental Emergencies – Plymouth, MA
Take Fast Action to Protect Your Smile
When a dental emergency strikes, it can be a frightening and painful situation. However, it is important that you maintain a level head and take fast action. Knowing how to handle various dental emergencies can minimize the damage to your oral health, reduce your pain, and help us make sure that the treatment you receive in our office will accomplish as much as possible. In the sections that follow, you will find practical guidelines that you can apply when and if you meet with common dental emergencies.
Something Stuck Between the Teeth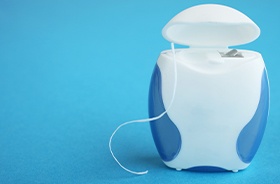 Do not try to pry or poke the item out with a sharp object, like a toothpick, or worse, the edge of a knife. Doing so might cause you to accidentally damage your gums or teeth. Instead, tie a knot in some waxed dental floss. Insert the floss between your teeth and move it back and forth, trying to use the knot to dislodge the stuck item. If you are unable to remove the object via your own efforts, give our office a call. When you get here, we will carefully evaluate the item and its position before we remove it.
Extruded Tooth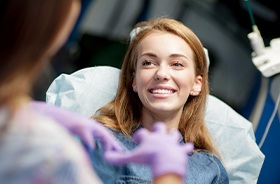 Abscess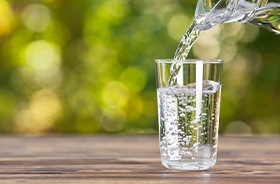 An abscess is a pocket of pus that forms as the result of an advanced dental infection. It may present itself as a pimple-like bump on your gums, or you might notice other symptoms, such as a high fever, a toothache, or swelling in your face or cheek. Left untreated, such an infection can spread throughout the body, which is why prompt treatment is necessary. We may perform root canal therapy and provide you with antibiotics. Before your emergency appointment, rinsing with a saltwater solution might help to ease your pain.
Soft Tissue Injury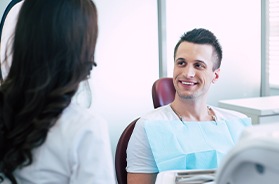 If your gums, cheeks, lips or tongue are bleeding, rinse your mouth with a saltwater solution. Then, try to hold a piece of sugar-free gum over the injury for 15 – 20 minutes to help stem the flow of blood. However, if the injury is severe, or it refuses to stop bleeding, do not hesitate to seek immediate attention. You may need to visit a local emergency room. After your initial treatment, you can come to our office for follow-up care.