Full Dentures & Partial Dentures – Plymouth, MA
Functional, Natural-Looking Tooth Replacement
Since they were first used centuries ago, dentures have evolved. The dentures of today are more comfortable and functional than ever before. They are one of the most popular ways to replace lost teeth. At Aveni Dental Professionals, we offer both full and partial dentures. On this page, we discuss what these types of prosthetics are, how they work, and how you may benefit from them.
Why Choose Aveni Dental Professionals for Full Dentures and Partial Dentures?
1

Experienced restorative dentist

2

Natural-looking, comfortable results

3

Knowledgeable, empathetic dental team
What Are Full and Partial Dentures?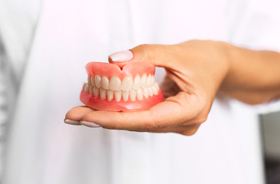 A full denture replaces an entire arch of lost teeth. It consists of a gum-colored base that supports a row of artificial teeth, which are usually constructed out of acrylic of porcelain. A mild adhesive or natural suction helps a full denture to remain secure in the mouth during eating and speaking.
A partial denture replaces multiple teeth at various places throughout a dental arch. You can think of it sort of like a puzzle piece that fits in exactly where it is needed. It may have small metal attachments that connect it to the nearby natural teeth and help it to stay stable during speaking and eating.
How Do Dentures Work?
The denture process is a little different for everyone. Some patients may require extractions or other types of treatment before they can receive their prosthetic. Once your mouth is ready, our team will take some impressions and images of your gums and any remaining teeth, which will serve as the basis for creating your denture. Your new teeth will be carefully designed to functional well with your oral anatomy and complement your natural facial aesthetics.
After a dental lab fabricates your denture, you will begin the process of learning how to use it. You may have to make a few adjustments to your eating habits, but you should be able to enjoy robust, comfortable function from your denture for several years.
Benefits of Full and Partial Dentures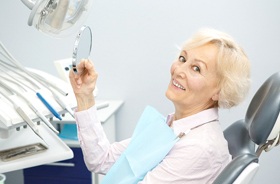 Some benefits of full and partial dentures include:
They are among the most affordable tooth replacement options. Insurance is usually willing to cover at significant portion of the cost.
As long as they fit well, they provide comfort, function, and aesthetics.
They can enable you to eat most foods.
They are easy to care for. Our team will give you some pointers on how to properly maintain your denture.
Cost of Full and Partial Dentures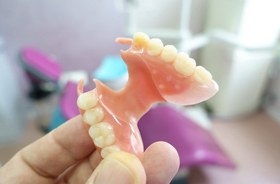 We will give you an estimate for the price of your denture when you visit us for your consultation. Your out of pocket cost will depend on a few factors, including whether you will receive a full or partial denture; the materials used to make your denture; and how your insurance policy applies to your treatment. If you do not wish to pay for the entirety of your denture upfront, we can help you apply for low-interest financing through CareCredit, which will allow you to break up the cost of your prosthetic into manageable monthly installments.