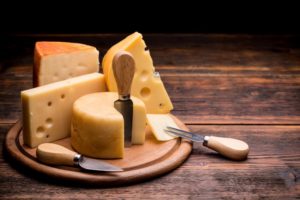 It has long been known that balanced nutrition plays a key role in oral health. For example, consuming enough calcium, phosphorus, and vitamin D are all important in helping to keep the teeth strong. Now, though, evidence is emerging that indicates the importance of another vitamin: vitamin K2. In this blog post, we will discuss what vitamin K2 is and how it may support the teeth and promote jawbone density.
What Is Vitamin K2?
Discussions about vitamin K usually focus on vitamin K1, which is found in leafy greens, broccoli, brussels sprouts, and a number of other vegetables. It serves a number of useful purposes within the body. Vitamin K2 is talked about less often. It is the type of vitamin K that is found in grass-fed meats, hard cheeses, and certain types of fermented food (natto is a particularly rich source). Gut bacteria are also capable of producing K2 on their own.
K2 and Bone Health
Low vitamin K intake is associated with an increased risk of hip fracture in both men and women. Its benefits are particularly noteworthy for otherwise healthy postmenopausal women with weak bones. Studies suggest that vitamin K2 may be even better than K1 at promoting bone health.
Does this mean that K2 can promote jawbone density? There is no specific research on the matter. However, its benefits for overall bone health suggest the possibility that this vitamin could promote a strong jawbone.
K2 and Cavities
The teeth are not technically bones, but they may also benefit from vitamin K2. One theory suggests that the vitamin activates a certain protein that plays a role in remineralizing teeth. It is therefore possible that K2 can play a role in preventing cavities.
Are You Getting Enough Vitamin K2?
Sadly, most people do not get enough vitamin K2. This may partly be because many foods that contain this important nutrient are not particularly common. Being conscious of your K2 intake may help you increase how much you consume. In addition to the foods listed above, some easily accessible sources of K2 include:
Organ meat
Egg yolks (most chicken feed is fortified with vitamin K)
Sauerkraut
Grass-fed butter
You could also try taking a vitamin K2 supplement. However, research on whether supplements are effective at producing all the benefits of K2 is quite limited.
Vitamin K2 is one of many nutrients that can play an important role in promoting oral health. If you have questions about what you should eat in order to maintain a healthy smile, your dentist in Plymouth would be happy to help you.
Meet the Practice
Dr. Steve Aveni has been serving patients for more than 40 years now. During that time, he has completed advanced training in a number of areas of his profession. Along with Dr. Peter Mortelliti, he offers a broad range of preventive and restorative dental services. If you would like to speak to Dr. Aveni about how you can eat to maintain a healthy smile, contact our practice at 508-812-7692.