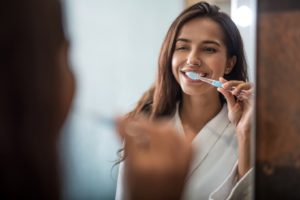 The standard recommendation is that everyone brushes their teeth for two minutes twice a day. Most people apply that advice by brushing every morning and every evening. However, you may wonder exactly when in the morning you should brush your teeth. Is it better to do it right after you wake up, or should you wait until after breakfast? A preventive dentist in Plymouth is here to explain why brushing teeth before breakfast is often the wisest course of action.
The Benefits of Brushing Before Breakfast
While you sleep, the bacteria in your mouth tend to multiply. That is why you may sometimes wake up with "morning breath" or a mossy taste in your mouth. Brushing first thing in the morning fights those bacteria and coats your enamel with a protective barrier that will help protect against acids in your morning meal.
Another benefit of brushing before breakfast is that it can give your saliva production a boost. Saliva helps break down food and rinse away bacteria that might otherwise linger in your mouth following a meal.
The Risks of Brushing After Breakfast
You may prefer to brush your teeth after breakfast. After all, perhaps you want to head to work with fresh breath and dislike the idea of sipping on orange juice while you still have the taste of toothpaste in your mouth. However, choosing to brush after breakfast comes with a significant downside.
Experts recommended that you do not brush your teeth for 30 – 60 minutes following a meal, especially if you consume something acidic. That is because acids in food temporary weaken tooth enamel. Brushing while your teeth are in this weakened state can damage them. And, unfortunately, many breakfast foods, including citrus fruits and coffee, are acidic. Therefore, unless you wake up early enough to wait an hour between breakfast and brushing your teeth, brushing before breakfast is preferrable for your oral health.
Tips to Protect Your Teeth
What should you do if you forget to brush your teeth before breakfast? Here are some useful tips:
Sip on water or chew on sugar-free gum. These activities help rinse away bacteria and food particles.
Pack a toothbrush. If you do not have time at home to wait 30 – 60 minutes between breakfast and brushing your teeth, take your toothbrush and toothpaste with you when you leave. You can take a moment in the bathroom at work to freshen up your smile.
Be gentle. This advice is applicable regardless of when you brush your teeth. Applying light pressure will protect your enamel without compromising your ability to achieve a clean mouth.
During which part of your morning routine do you brush your teeth? Doing it first thing in the morning brings significant benefits.
About the Author
Dr. Steve Aveni is a general and preventive dentist in Plymouth with more than four decades of experience. He is a graduate of Georgetown University School of Dentistry and a member of numerous prestigious organizations. He is always happy to advise his patients on how they can take excellent care of their teeth. If you would like to avail yourself of Dr. Aveni's expertise or learn more about our practice, contact us at 508-746-1918.