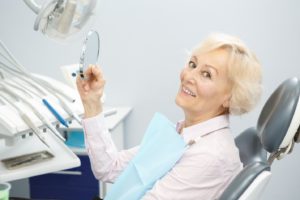 Many patients love their dentures because they provide reliable, aesthetically pleasing tooth replacement. However, as well-liked as dentures are, it must be acknowledged that they come with some downsides. For example, they are prone to become destabilized or to slip in the mouth during eating and speaking. They also do not support bone health. Implant-supported tooth replacement is much stronger, and the dental implants can help to keep the bone whole and strong. Would you like to transition from dentures to dental implants? Here is a brief guide on what you can expect during your treatment journey.
Before You Get Dental Implants
If it has been a significant amount of time since you lost your teeth, your dentist might determine that you require a bone graft. A bone graft will build up your jawbone so it can serve as the ideal support for your dental implants. Some patients require other preparatory treatment as well, such as periodontal therapy. When your mouth is ready to receive dental implants, your dentist will schedule you for your implant placement surgery.
Implant Placement and Recovery
After the implants have been placed in your jaw, a process known as osseointegration occurs. During this time, the implants will fuse with the tissues around them. This may take a few months. In the meantime, you will have to avoid certain foods that might irritate the surgical sites. If you have any concerns or questions along the way, you can rely on your dental team for timely support.
Receiving and Using Your New Teeth
There is a small chance that your dentist will be able to retrofit your old denture to snap onto and off of dental implants. In most cases, though, it is necessary to create an entirely new restoration. It might be in the form of a fixed bridge that is permanently attached to your implants, or it may be a removable implant-supported overdenture.
Once you begin using your new teeth, you will go through an adjustment period. Here are a few notes on what you can expect:
Until you adjust to your prosthetic, you may want to stick to eating soft foods. However, it will not be long before you can start to consume tougher items, such as steak, raw veggies, and more.
Because your new teeth will be so stable, you will not have to worry about embarrassing slips when you are speaking or eating.
Just like with traditional dentures, you will remain responsible for cleaning your prosthetic. If it is permanently fixed in your mouth, you can treat it similarly to natural teeth. If it is removable, you should clean it similarly to how you cleaned your old dentures.
Would you like to say goodbye to dentures and hello to dental implants? The above information offers a brief overview of what you can expect during the journey ahead.
Meet the Practice
Dr. Steve Aveni takes the lead at Aveni Dental Professionals. Since he graduated from Georgetown University School of Dentistry, he has gained decades of experience. He has also completed advanced training in several areas, including full-mouth reconstruction with dental implants. If you are interested in switching from dentures to dental implants, he would be happy to answer your questions. Contact us at 508-746-1918 to learn more about Dr. Aveni and our practice.