Single Tooth Implants – Plymouth, MA
Fill the Gap and Protect Your Oral Health
Many people who are missing one tooth choose not to replace it. They may reason that since they can still chew without too much difficulty, tooth replacement is not truly necessary. They may not even be concerned with the aesthetic consequences of a lost tooth, especially if the empty space is toward the back of the mouth. However, such thinking is dangerous. In truth, it is vital to replace even a single missing tooth. Without tooth replacement, the bone at the site of the lost tooth will begin to deteriorate. The nearby teeth could begin to drift out of place. Further tooth loss may even occur. A single tooth dental implant can prevent such issues.
Why Choose Aveni Dental for Single Tooth Replacement?
1

Highly experienced dentist

2

Compassionate, detailed-oriented team

3

Start to finish dental implant treatment
Tooth Replacement Options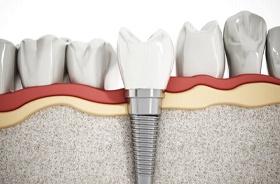 There are basically two ways in which our team can replace a single missing tooth:
A traditional fixed bridge consists of two crowns, which get placed over the teeth next to the empty space, as well as an artificial tooth between the crowns to "bridge" the gap. This type of prosthetic can be sturdy, natural-looking, and long-lasting. It is also relatively affordable.
A single tooth dental implant is a prosthetic tooth root. It gets placed into the bone at the site of the lost tooth. Once it has integrated with the surrounding tissue, Dr. Aveni places a crown on top of it to replace the visible portion of the missing tooth.
The Single Tooth Implant Process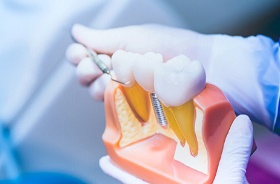 After Dr. Aveni ensures that you are a candidate for dental implants, he will reschedule you for implant placement surgery. During the surgery, he places a titanium, prosthetic tooth root into the bone. Then, a remarkable process known as osseointegration begins. The dental implant will actually fuse with the jawbone, enabling it to provide the strongest base possible for the crown that will eventually go on top of it.
Osseointegration usually takes at least a few months. Following it, you will return to our office to have an abutment (a small connector piece) attached to the implant. The abutment will secure your custom crown in place.
Benefits of Single Tooth Implants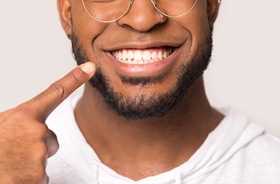 Both traditional bridges and dental implants offer reliable tooth replacement. However, an implant has some significant advantages:
No damage to the surrounding teeth. Placing a bridge requires that the teeth next to the gap be filed down in order to support crowns. An implant is self-supporting and thus allows as much natural dentition as possible to remain intact.
Bone fortification. Because an implant fuses with the jawbone, it prevents the bone from deteriorating.
Natural look. Aveni carefully crafts each dental implant crown to complement a patient's facial aesthetics.
Long-lasting. A dental implant has the potential to last for several decades — it may even last for a lifetime. The crown on top of an implant also boasts a long lifespan (perhaps 10 years or longer).
Are you ready to learn more about single tooth replacement? Contact Aveni Dental Professionals today to schedule your consultation.