Missing Multiple Teeth – Plymouth, MA
Filling in the Gaps to Restore Your Smile
Traditionally, tooth replacement options have focused on replacing the visible portion of lost teeth —everything that you normally see above the gumline. While these treatments can restore a degree of functionality, and they offer pleasing aesthetics, they have some downsides. Dr. Steve Aveni and our team often recommend implant-supported prosthetics as the superior option because they rebuild teeth from the roots up. On this page, you will learn about both types of procedures and discover why dental implants are usually the superior option for replacing multiple missing teeth.
Why Choose Aveni Dental to Replace Multiple Missing Teeth?
1

Traditional and implant-supported options available

2

Start to finish dental implant care

3

Efficient and caring dentists
Non-Implant Tooth Replacement Options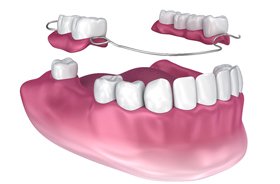 Patients who choose not to receive dental implants, or who are not candidates for them, have a few options for replacing multiple teeth:
Fixed bridge. A fixed bridge is supported by two crowns, one on each end, which get placed on top of the teeth next to an empty space. The crowns support 1 – 3 artificial teeth (called pontics) between them. This type of restoration is a popular choice among patients whose missing teeth are all adjacent to one another.
Partial denture. A partial denture is a removable prosthetic that consists of a gum-colored base that supports as many artificial teeth as necessary to fill in all of the gaps throughout a dental arch. You can think of a partial denture sort of like a puzzle piece that fits in exactly where it is needed.
Full denture. Patients who have lost all or most of their teeth throughout an arch may opt for a full denture, which is a removable prosthetic that replaces an entire row of missing teeth.
The Dental Implant Process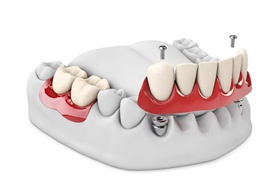 Benefits of Implant-Retained Dental Prosthetics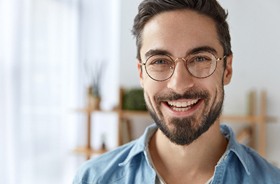 Although the dental implant process takes longer than non-implant treatments, it is worth the time. It offers some significant advantages, including:
The dental implants help to preserve the jawbone's structure.
Dental implants have the potential to last a lifetime.
Implant-supported teeth are extremely stable and are able to stand up to virtually any food.
In many ways, caring for dental implants and their restorations is similar to caring for natural teeth.
Because dental implants are self-supporting, placing them usually does not require that any of a patient's remaining natural teeth be modified.
Implant restorations look virtually identical to natural teeth.
Would you like to learn more about your options for replacing multiple teeth? Contact us to schedule your complimentary dental implant consultation today.