Benefits of Dental Implants – Plymouth, MA
The Best Tooth Replacement Option
If you have lost one or more teeth, there are several treatment options that might be able to fill in those gaps in your mouth. Each of those choices offers distinct advantages and disadvantages. However, when you weigh the long-term benefits of various tooth replacement treatments, there is one that stands out from the pack: dental implants. On this page, we will discuss some of the reasons why dental implants are considered to be the gold standard in tooth replacement.
Natural Form and Function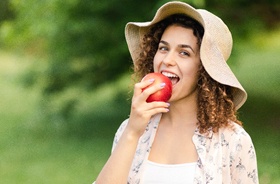 Dental implants replace the roots of lost teeth, and restorations on top of the implants replace the visible portions of those teeth. This unique structure enables dental implants to provide outstanding function that feels extremely natural. You will be able to eat practically any food without taking special precautions or worrying that your new teeth will become destabilized. Many patients find that their implant-supported teeth are so comfortable that it is easy to forget the implants are there!
Remarkable Aesthetics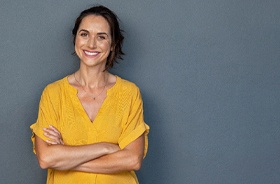 Dr. Aveni carefully designs dental implant restorations so that their appearance is as natural as possible. He pays great attention to their shape, size, and color, making sure that each of these elements works well with a patient's oral anatomy and their facial characteristics. Once your implants receive their restorations, it is high unlikely that onlookers will be able to tell that you ever suffered any degree of tooth loss.
Maintain a Youthful Appearance
After you lose a tooth, a natural process known as resorption begins; the body recycles the bone that once supported the tooth. Over time, so much of the jaw's mass can be lost that it begins to change shape. A "sunken" facial appearance may result. Dental implants stimulate the jawbone and help to keep it as strong and whole as possible, thus helping your face to retain its natural, youthful shape.
Easy Maintenance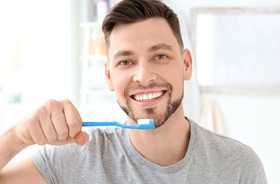 Caring for dental implants is quite simple. In fact, you can care for them in almost the same way that you would care for natural teeth. Thorough oral hygiene habits, as well as regular dental visits, will play a pivotal role in making sure that your restored smile stays as clean, functional, and healthy as possible.
Longevity
Traditional tooth replacement options, such as dentures and bridges, might last for 5 – 10 years or so before replacement becomes necessary. Dental implants, on the other hand, have the potential to last for many decades if they receive proper care.
Protection for the Remaining Natural Teeth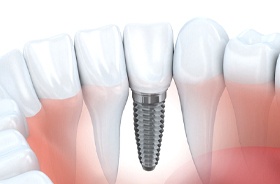 When you lose a tooth, the ones around it may begin to drift out of their proper positions. Dental implants serve as placeholders; they help to ensure that all of your teeth stay where they belong. Additionally, the dental implant process usually does not require that any of a patient's remaining natural teeth be altered or extracted.
Are You Ready to Learn More?
Would you like to learn more about dental implants and how they may benefit you? Contact us today to schedule your personalized consultation.